As the registration process for the Philippine National ID has begun, some registrants have encountered difficulties, particularly when they forget what documents and other requirements they need to remember and bring. This article will walk you through the list of requirements you must know and will need to bring during the registration process to assist you in obtaining your Philippine National ID.
Also Read: How to Check Status of Philippine National ID Delivery Online
In case you are wondering what you should bring during the application of your PhilID, please follow the steps below. Make sure to have them ready for an easier and more convenient way to apply for the ID.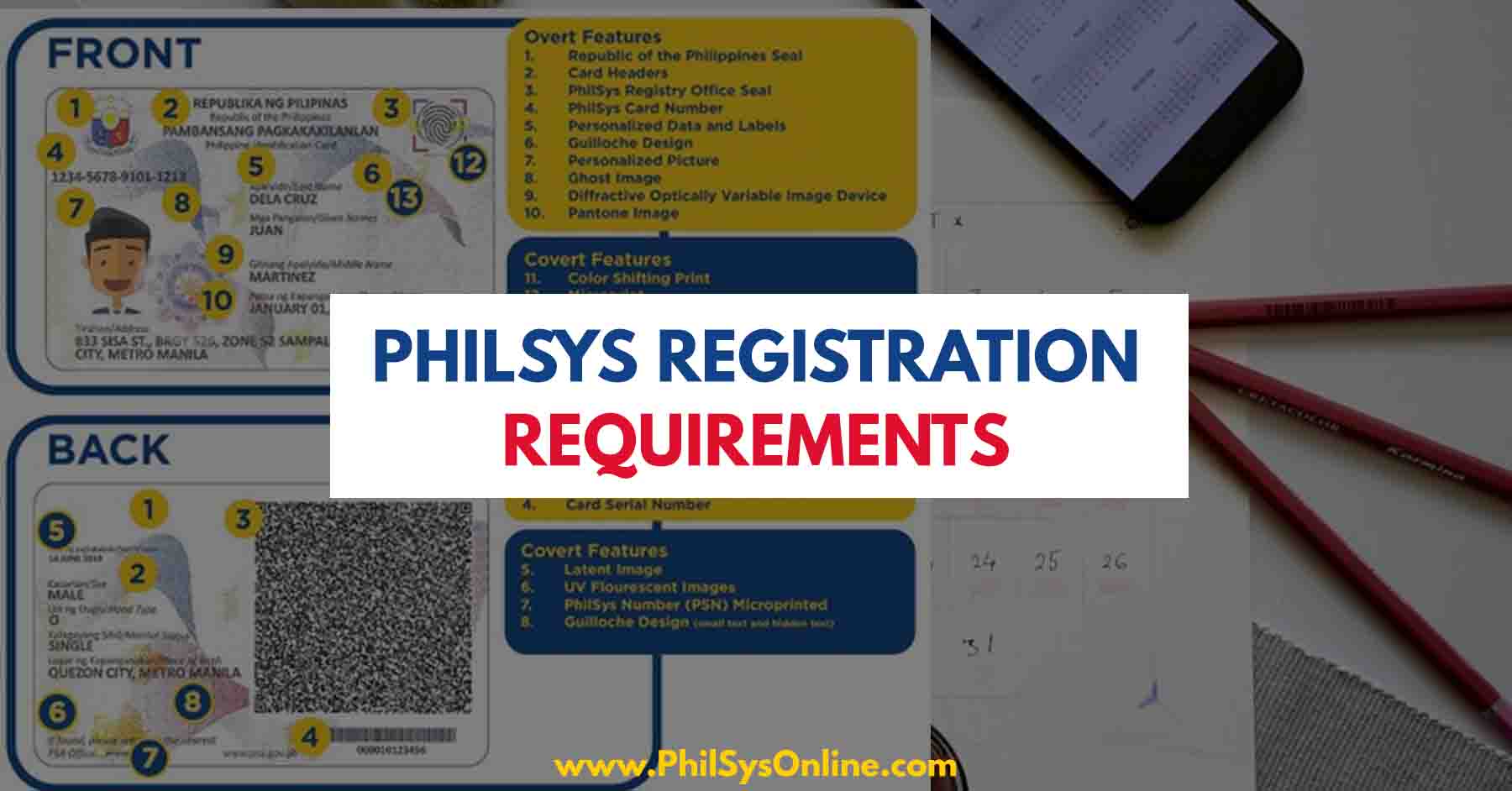 Eligibility to Apply for the Philippine National ID
Anyone regardless of age, who is a Filipino citizen living in the Philippines or abroad can apply for a National ID. People with various citizenship who have been in the country for more than six months are also encouraged to apply.
Only their front-facing photo and demographic information will be provided by children under the age of five. This number will be linked to the PhilSys ID numbers of their parents. When your child turns 15, an update will be required, and their biometrics will be captured once more.
Also Read: What are the Parts of the Philippine National ID (PhilID)?
List of National Philippine ID ID Requirements
The following is the complete list of requirements you will have to take note of and bring in every step in the registration process:
PhilSys Step 1 Registration Requirements
Here's a list of the requirements to bring during the PhilSys Step 1 process:
Accomplish Registration Form (https://register.philsys.gov.ph/#/eng)
Demographic Information to be Collected

Name
Sex
Date of Birth
Place of Birth
Present Address
Permanent Address
Nationality
Blood Type
Civil Status
Mobile Number
Email Address
PhilSys Step 2 Registration Requirements
Here's a list of the requirements to bring during the PhilSys Step 3 process:
Appointment Slip
Application Reference Number (ARN)
QR Code
Registration Form
Required Documents (at least 1 of the following)
Philippine Passport or ePassport – DFA-Issued
Unified Multi-purpose Identification Card (UMID) – GSIS or SSS-Issued
Student's License Permit or Non-Pro/Professional Driver's License – LTO-Issued
Certificate of Live Birth (PSA-Issued) and one other government-issued identification document which contains the following date:

Full Name
Front-facing Photograph
Signature and/or Thumb Mark
If you do not have the above primary documents, you may present any of the following secondary documents:
Person with Disabilities (PWD) ID
Taxpayer Identification (TIN) ID
Pantawid Pamilyang Pilipino Program (4Ps) ID
Special Resident Retiree's Visa (SRRV) – Philippine Retirement Authority (PRA)-Issued
IDs Possessed from Other Countries
Police/NBI/Barangay Clearance
Social Security System (SSS) ID
Senior Citizen's ID
Overseas Workers Welfare Administration (OWWA) ID
PhilHealth ID
Professional Regulatory Commission (PRC) ID
Integrated Bar of the Philippines (IBP) ID
Postal ID
Solo Parent's ID
School ID
Employee ID
PSA-Issued Certificates

Report of Birth
Certificate of Founding
Certificate of Live Birth (can be NSO or LCRO Issued)

Seaman's Book
License to Own/Possess Firearms (LTOPF) ID
Voter's ID
Personal Data to be Collected
Required
Full Name
Gender
Date of Birth
Home Address
Blood Type
Citizenship
Optional
Marital Status
Mobile Number
Email Address
Biometric Data
IRIS Scan
Fingerprints (Full Set)
Front-Facing Photograph
PhilSys Step 3 Registration Requirements
Here's a list of the requirements to bring during the PhilSys Step 3 process:
Transaction Slip from Step 2 Registration
Valid ID except for Barangay Certificate
Video: Philippine National ID Requirements
Here is a video below entitled "Ano ang mga National ID Requirements?" which outlines the list of requirements you will need when you apply for the Phil ID. Please be guided and watch the whole video for your reference:
Summary
So these are the documents you will need as you go through each stage of the registration process. These are important requirements that you must remember and bring with you at every step of the registration procedure. After you've completed all of the registration stages, you'll have your National ID within your hands while you wait for it to be delivered to your home via PHLPOST courier service.
The Philippine National ID, or PhilSys ID, is a government-issued identification card that can be used in any transaction that requires confirmation of identity or appropriate identification.
It is recommended that you contact the Philippine Statistics Authority directly if you have any more questions about PhilSys.