The Philippine Statistics Authority or PSA started implementing the Philippine Identification System Act (Republic Act No. 11055) during the start of the New Year (2021). This encourages Filipinos to secure the Philippine Identification System ID, also known as the PhilSys ID or simply the National ID. Here we share details about how to register for the PhilSys online, what are the requirements, qualifications, and benefits of getting this ID.
If you did not apply yet for your PhilSys ID and you're interested but afraid to go outside due to the pandemic situation, this article will help you look into the process of applying for your National ID online.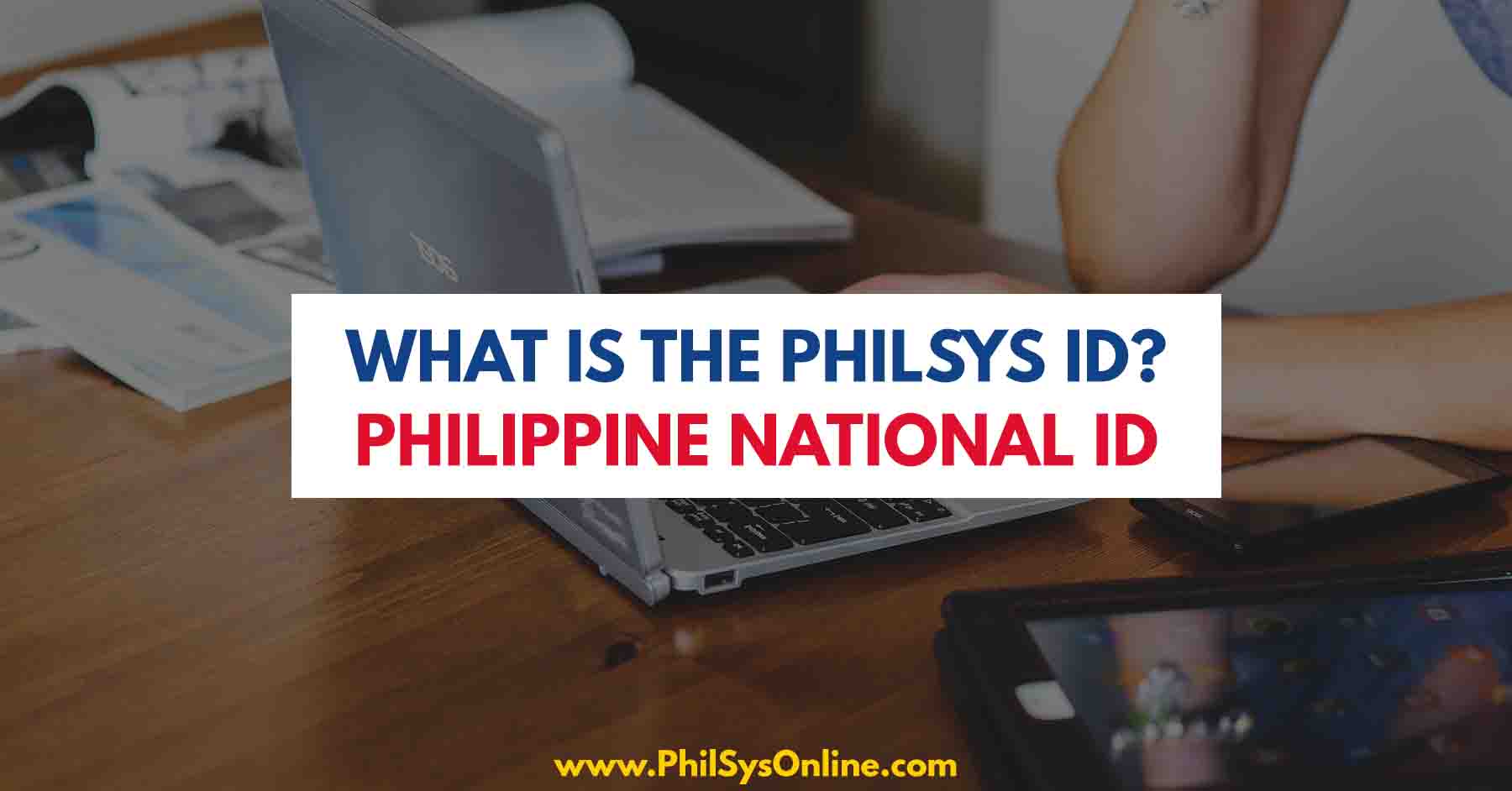 What is PhilSys and Why Register?
PhilSys is the government's platform to centralize the identification of all citizens and resident aliens in the Philippines. It is primarily established to give valid proof of identity to simplify the people's public and private transactions.
PhilSys aims to eliminate presenting different forms of identification for such transactions, which is subject to appropriate authentication measures basing on a biometric identification system.
As it transforms how the delivery and accessibility of services in the Philippines, it will also accelerate the transition of the country to a digital economy, providing paperless, cashless, and present fewer transactions.
What is the Philippine Statistics Authority – PSA?
The Philippine Statistics Authority (PSA) will be the agency responsible for carrying out provisions of the PhilSys Act. They will be the ones to plan, manage, and administer the PhilSys. The National ID will have no expiry date except for resident aliens' ID which shall be renewed annually.
The National ID is a card serving as the government's unified and centralized form of identification given to Filipino citizens all over the world along with foreign permanent residents in the Philippines.
Purpose of PhilSys ID
As you secure your official National ID, you get to simplify your various day-to-day processes. You will be able to register, apply, and reapply to various establishments and government agencies easier.
The primary reason for having the Philippine National ID is to increase safety for better privacy and have an efficiency reduced corruption and a simplified system for everybody.
Benefits of PhilSys National ID
The PhilSys National ID is honored and is subject to identification whenever the holder is involved in different transactions especially those that require verification of his or her identity. The transactions are but are not limited to the following:
Applying for services and benefits government agencies offered (PhilHealth, GSIS, SSS, etc.)
Applying for access and eligibility to social welfare and benefit offered by the government
Applying for passports, travel documents, and driver's license
Transactions that are tax-related
Registration for voting identification purposes
Admitting to institutions such as hospitals, health centers, and other similar institutions
Admitting to learning institutions and universities, both public and private
Applying and transacting for employment purposes
Opening of bank accounts and other bank transactions
Applying for other government transactions and transactions requiring proof of identity
Eligibility
The registration for the National ID is open to all Filipino citizens in the Philippines and abroad and of all ages. Foreign residents and individuals with multiple citizenships who have lived in the Philippines for more than 6 months are also encouraged to apply.
For children below 5 years old, they will only give their front-facing photo and their demographic information. As for their PhilSys ID Number, it will be linked to their parents. If the kid turns 15, an update will be needed and their biometrics will be recaptured.
As with any other registration process, the Philippine Statistics Authority (PSA) will cater first to the registration of the following prioritized individuals: the poor, persons with disabilities, senior citizens, and indigenous people.
PhilSys National ID: Is it Mandatory or Not?
As stated in the law, everyone is NOT mandated to register for the National ID. You will not be penalized under the Philippine Identification System Act if you ever refuse to get your ID. But take note that PhilSys strongly encourages everyone to register for it will be eventually used for the issuance of government services.
While it is not currently a requirement, we are not certain of the future that this may become one. After all, the Philippines is only one of the few countries who do not have a national ID. In other parts of the world, the national ID is a major requirement.
It is advisable that we all comply with this application given that this will be useful for us in the future. Who knows, what if the other Philippine IDs, may be removed, right?
Parts of the National ID
Here is what you are to expect of the identification when you apply. Your National ID is non-transferable and will contain a 12-digit number unique to every individual and the following personal information you have:
Full Name
Gender
Date of Birth
Home Address
Blood Type
Civil Status
In addition, the National ID will also feature a QR Code that contains the individual's PSN and fingerprints data.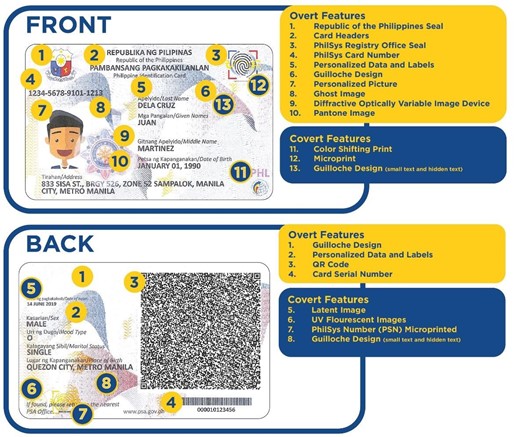 PhilSys Pre-Registration
Before you proceed to the first step of the registration process, here are some things you have to know and prepare as you continue on your registration.
Information to be Collected under the PhilSys
The personal information they will need is your:
Required
Full Name
Gender
Date of Birth
Home Address
Blood Type
Civil Status
Citizenship
Optional
Mobile Number
Email Address
Biometric Data
Front-Facing Photograph
Fingerprints (Full Set)
IRIS Scan
Requirements
Here are the primary documents you must bring as you continue to step 2:
Philippine Passport or ePassport – DFA-Issued
Unified Multi-purpose Identification Card (UMID) – GSIS or SSS-Issued
Student's License Permit or Non-Pro/Professional Driver's License – LTO-Issued
Certificate of Live Birth (PSA-Issued) and one other government-issued identification document which contains the following date:

Full Name
Front-facing Photograph
Signature and/or Thumb Mark
If you do not have the above primary documents, you may present any of the following secondary documents:
Person with Disabilities (PWD) ID
Taxpayer Identification (TIN) ID
Postal ID
Solo Parent's ID
School ID
Employee ID
Police/NBI/Barangay Clearance
Social Security System (SSS) ID
Senior Citizen's ID
Overseas Workers Welfare Administration (OWWA) ID
PhilHealth ID
Professional Regulatory Commission (PRC) ID
Integrated Bar of the Philippines (IBP) ID
PSA-Issued Certificates

Report of Birth
Certificate of Founding
Certificate of Live Birth (can be NSO or LCRO Issued)

Seaman's Book
License to Own/Possess Firearms (LTOPF) ID
Voter's ID
Pantawid Pamilyang Pilipino Program (4Ps) ID
Special Resident Retiree's Visa (SRRV) – Philippine Retirement Authority (PRA)-Issued
IDs Possessed from Other Countries
*You will also have to take note that the Registration for the National ID is free of fees.
PhilSys Registration Step 1 – PhilSys Registration Form
As an applicant, you will submit a duly accomplished registration form to your designated registration center. You can access the registration form through this link – https://register.philsys.gov.ph/#/eng
Fill out the necessary information needed and submit your registration form. After submitting your form, you will book the schedule of your preference for you to proceed to step 2. Remember to have a copy of your Application Reference Number (ARN) along with your QR Code because you will need to present this at the registration center.
PhilSys Registration Step 2
On the day of your registration schedule, proceed to any of the designated registration centers near your area. Upon arriving at the office, present your Application Reference Number (ARN) along with your QR Code and your supporting documents. Make sure that your supporting documents will validate your demographic information.
For you to know which registration center you can go to for the Step 2, here is the link for the list of registration centers in the country: https://www.philsys.gov.ph/registration-center/
Registration limits the exposure of registrants at the registration center and avoids congestion.  Remember to follow health and quarantine protocols as you complete your registration.
Health Protocols at the Registration Center
The standard wearing of Personal Protective Equipment (PPE) such as face masks and face shields. As you enter a registration center, a contact tracing is needed and assigned sanitation personnel will make sure that equipment (e.g., iris scanner, fingerprint scanner, and temperature scanner) used by the public is regularly sanitized.
Before you enter the facility, a guard will get your temperature and will ask you to fill up a health declaration form. This is necessary for the registration staff ensures that all registrants shall follow the health protocols implemented in registration centers. The posted information materials contain health and safety reminders.
Strict Quarantine Protocols
As a new COVID-19 strain increase the quarantine protocols of selected areas, there may be stricter quarantine protocols imposed. A backup plan and online registration are implemented to counteract these to reach the registration target this 2021. Any new IATF standards added to existing health and safety protocols strictly will be adhered to during the registration process.
PhilSys Registration Step 3
After your registration step2, step 3 is just a matter of a waiting game. As long as you completely followed and submitted the necessary documents an information needed, you will not worry about anything anymore.
For Step 3, you will only have to wait for your PhilSys Number (PSN) and National ID to be delivered to your address. Prior to claiming, present your transaction slip or any valid IDs to the courier.
PhilSys Registration Team
For a more straightforward explanation of the Registration Process of the PhilSys ID, I recommend watching this video entitled "Know the Philsys 3 Step Registration" by the PhilSys-Comms Team.
If in case you need more information regarding the PhilSys Registration, you may reach out to the given contacts below.
Contact Information
Philippine Statistics Authority
Website: http://psa.gov.ph/philsys/
Telephone Number: 1388
Email: info@philsys.gov.ph
Facebook Page: https://www.facebook.com/PSAPhilSysOfficial/