Great news as PSA just announced a partnership with Robinsons Malls. PhilSys ID applicants can now book an appointment for the Philsys Step 2 application in all Robinsons Malls nationwide. In a recent signing of a Memorandum of Undertaking, PSA and Robinsons Land Corporation signed a deal to provide PSA services and set up registration offices in its mall branches.
After you complete the National ID Step 1 Registration process, you will proceed to go for Step 2 which is the Appointment or Appearance. You can choose any of the malls of Robinsons as your location.
Robinsons is one of the largest retail operators in the Philippines. Many Filipinos are fond of going to malls as a leisure activity. Now, you can just drop by any of the Robinsons Malls in order to also process the next step of the PhilSys ID.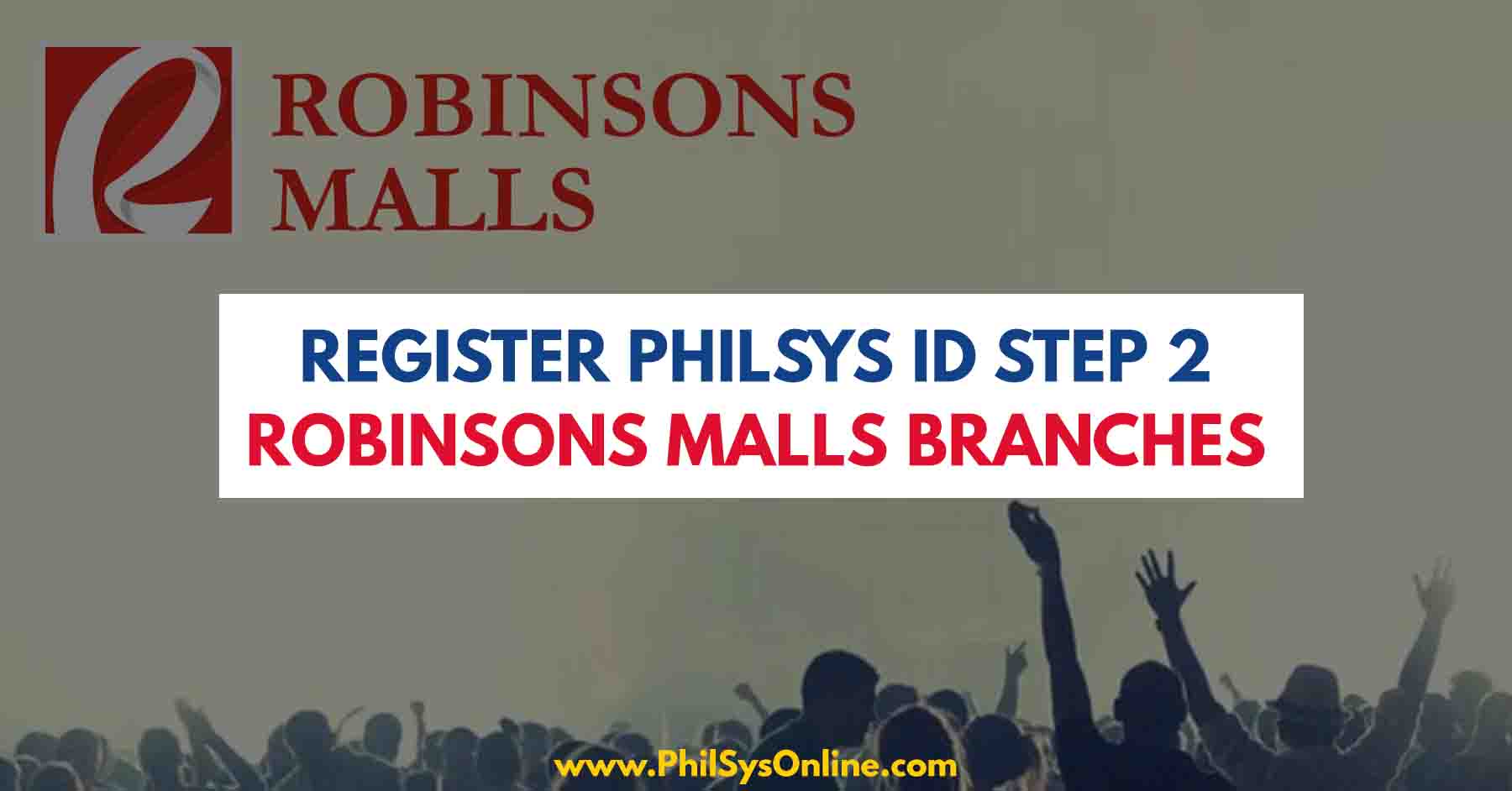 Robinsons Malls Opens PhilSys Step 2 Registration Centers in the Philippines
There are about 52 Robinsons Mall branches nationwide and this mall is already housing a number of Philippine government agencies as part of its public service advocacy that began in 2011 called Lingkod Pinoy Center Program.
The Memorandum of Understanding (MOU) was signed between the two organizations on 27 May 2021 at the Crowne Plaza Manila Galleria, Ortigas.
Benefits of Step 2 Registration at Robinsons Malls
The Robinsons Malls will open PhilSys registration centers in its branches nationwide to allow Philippine ID applicants to complete the Step 2 Registration for PhilSys.
This makes it easier for Filipinos to process this National government ID in a convenient and comfortable place.
Currently, the PhilSys registration centers are open in select Robinsons Malls only. So stay tuned as they will roll out new offices in other mall branches soon.
Robinsons Lingkod Pinoy Center Program
Under the Lingkod Pinoy Center Program, aside from the newly set-up PhilSys ID registration process, Robinsons also handles the following government agencies:
Department of Foreign Affairs (DFA),
National Bureau of Investigation (NBI),
Department of Tourism (DOT),
Technical Education and Skills Development Authority (TESDA),
and other local government units in select cities/municipalities (including SSS, Pag-IBIG, PHLPOST, GSIS, PhilHealth, etc.)
As you book your Step 2 registration of the PhilID, please follow the health and safety protocols during your visit. We hope more and more Filipinos will be able to succesffuly apply for the National ID.
Below is the post from PSA Philippine Identification System on their official Facebook Page regarding the Memorandum of Understanding partnership signed last May 27, 2021.
Please check out the full Press Release of this new Memorandum of Agreement below: