After you have accomplished Step 1 and Step 2 of the registration process of the PhilID, you will then wait for the delivery by PHLPOST. But how does our Philippine National ID look like? In this post, we share with you the parts of our PhilID and what information is included.
Also Read: Why is there NO Signature on the Phil ID Card?
One of the reasons for bureaucratic red tape is the government's existing multiple identity systems. Filipinos must display a variety of identification cards issued by several government organizations to establish their identity both in the Philippines and overseas. The Philippines is one of just nine (9) countries without a national identification (ID) system in the world. The issuance of identification cards by several agencies has resulted in unneeded and expensive redundancies, resulting in increased expenditures.
To improve government services and reduce red tape in government transactions in the Philippines, the Filipino Identification System is implemented to combine all government-issued ID systems into one.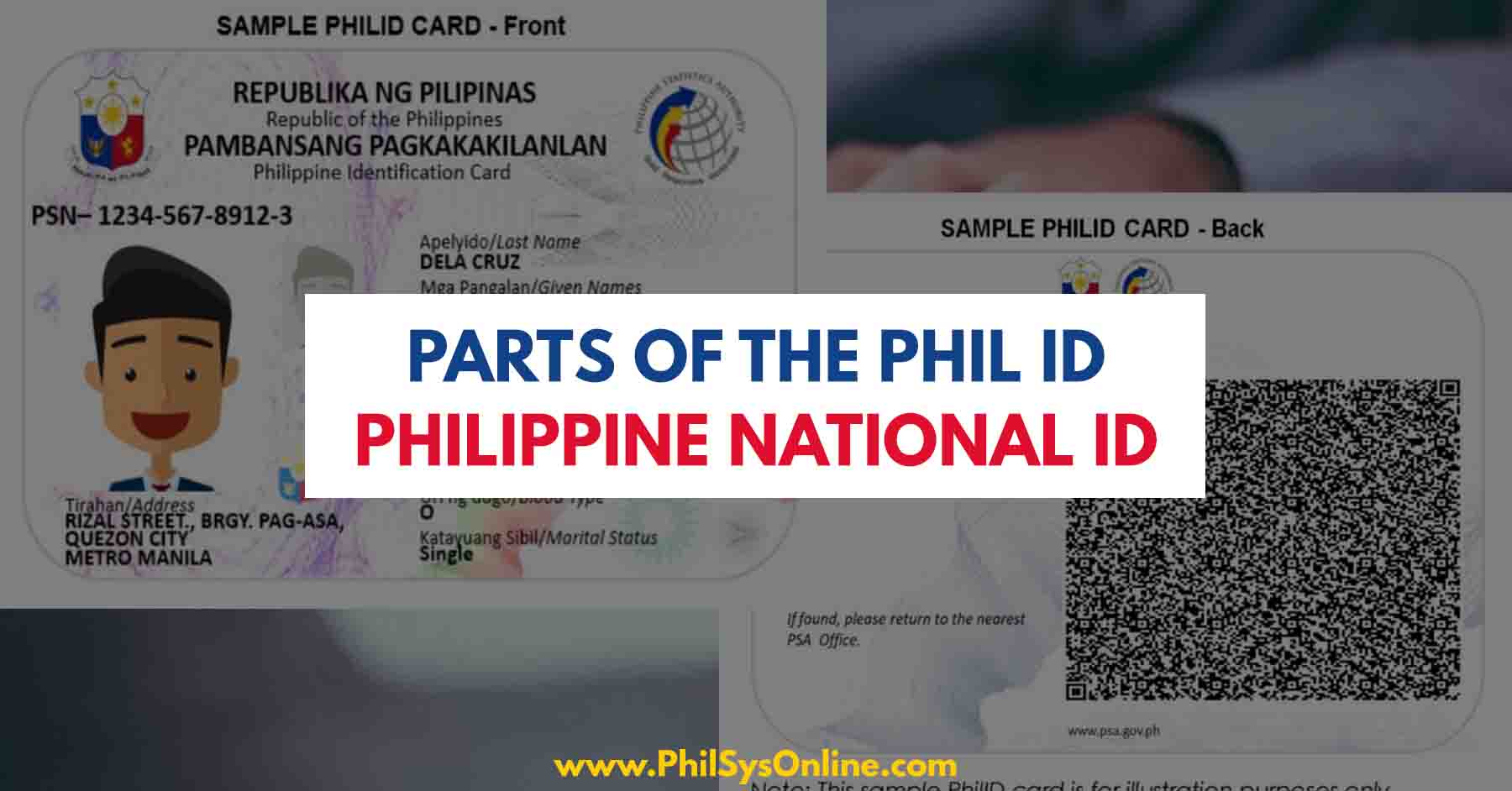 What information is included in the Philippine National ID (PhilID)?
During the PhilSys Step 2 Registration, the following information are collected and stored by the PhliSys and these are the ones you are to expect to be held by your National ID:
Demographic Information
Full Name
Sex
Birthdate
Birthplace
Blood Type
Permanent Address
Nationality
* Optional for Demographic Information
Marital Status
Mobile Number
Email Address
Biometric Information
Iris Scan
Full Set of Fingerprints Scan
Front Facing Photograph
What are the Parts of the Philippine National ID?
Basing on the given sample of the Philippine National ID, for the front part of your ID, you will see the following:
Logos of Republic of the Philippines and Philippine Statistics Authority
PhilSys Number (12-digit unique number)
Front Facing Photograph
Demographic Information

Last Name
Given Names
Middle Name
Sex
Date of Birth
Place of Birth
Blood Type
Address
Marital Status (optional)
Mobile Number (optional)
Email Address (optional)
At the back part of your National ID, the following data are what you have to expect:
Nationality
Date of Issue
PhilSys QR Code (This contains your biometric information: Full Set of Fingerprints and Iris Scan)
Sample PHILID Card
Please check out these images below which showcases a sample of what you can expect from the Philippine National ID. These samples show how the PhiLID looks like for your reference.
How is the Philippine National ID different from the other IDs?
The Philippine National ID, which is part of the Philippine Identification System (or PhilSys), is the government's centralized, uniform form of identification for Filipino citizens and resident foreigners. The establishment of the national identification system does not aim to replace other IDs but for the purpose that:
It will save costs, simplify transactions, and make things easier and more convenient.
Individuals can use the ID as an official document in transactions involving their identification, marital status, date of birth, and other personal details.
It will be accepted by national government agencies, local government units, government-owned or controlled enterprises, and government financial institutions when transacting with them.
It can also be used to track down voters, schools, and employees, as well as apply for senior citizen benefits.
It can also be used in courtrooms, for police clearances, and for banking and financial transactions.
Everyone will benefit in a variety of ways as the Philippines ID system becomes more simplified and automated. It will not only shorten the unduly bureaucratic processes in many public and commercial institutions, but it will also make many private sector services more accessible to more Filipinos.
Filipinos' daily transactions will be simplified with the establishment of PhilSys.