Filipinos who are wondering where to download the PhilSys registration form are advised to visit the PhilSys website in order and simply fill out the application form online. The PhilSys Registration Step 1 is actually the first step for you to enter your details into the PSA system so that you can apply for the Philippine National ID.
However, there are some who prefer to enter their details in an actual registration form. Please be guided on the information below as we also share with you a copy of the PhilSys form for your reference.
Also Read: What is PhilSys and Why Register for a PhilSys ID?
A single identity system that would allow everyone in the Philippines to transact seamlessly. It would make banking safer, provide better security, and make government services more efficient. Wouldn't you want to have this if only this could make your personal and commercial transactions much easier with government or business entities? Yes, we all do. Thankfully, the Duterte administration came up with the idea behind the PhilSys ID, also known as the "Philippine National ID."
The PhilSys ID is a national identification system aimed at all Philippine residents, regardless of their country of origin. It's part of a single, unified identity system. This is part of the "Philippine Identification System Act" signed by President Rodrigo Roa Duterte in 2018.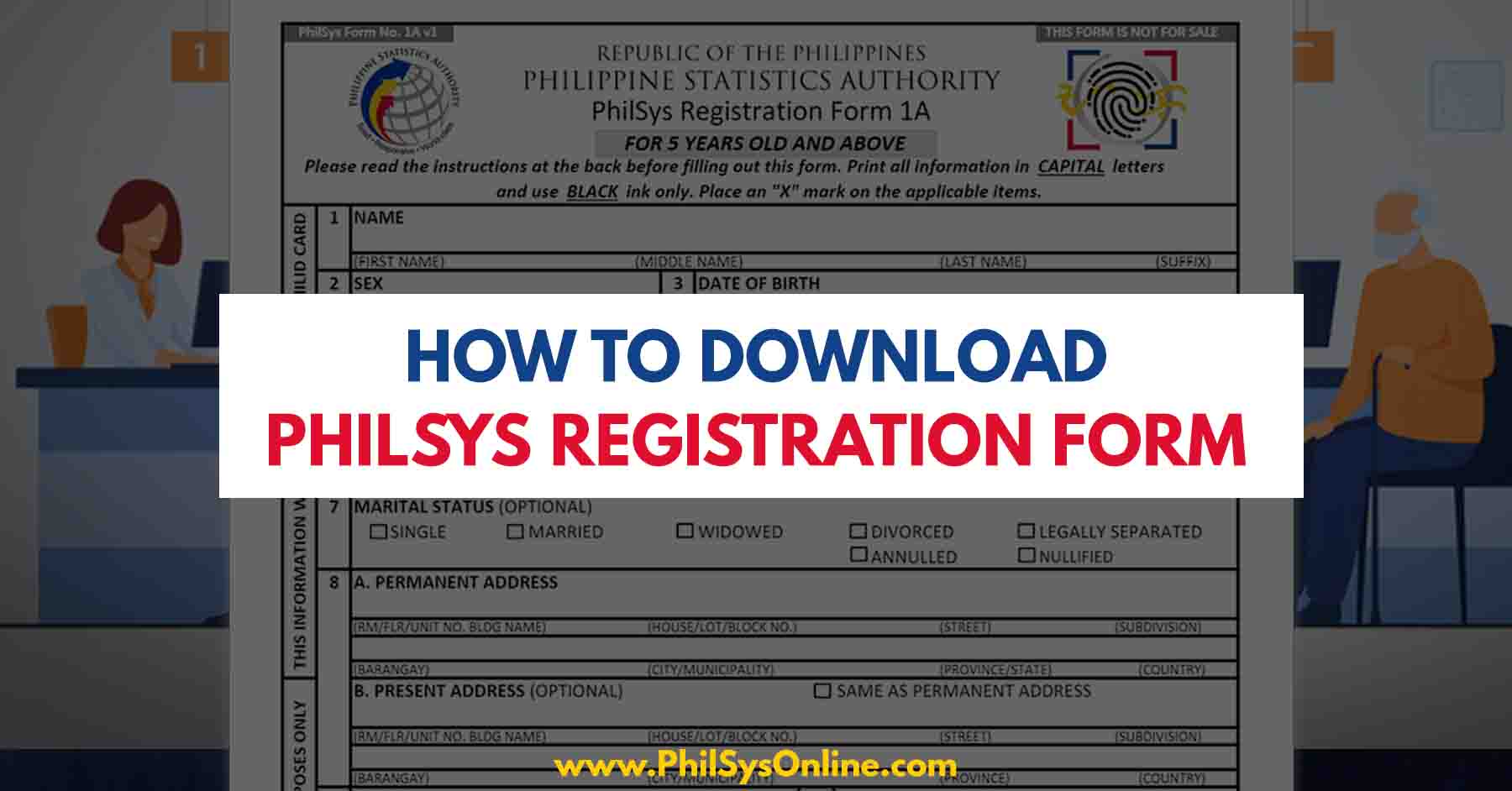 Before we move any further, did you know that until 2018, the Philippines remained one of the few countries without a national ID? It's sad, but it's true. So this development is one that's been a long time coming. And now that it's finally been set into motion, here's everything you need to know about the PhilSys ID. Be sure to read well until the end of this guide.
What is a PhilSys ID?
The PhilSys ID is a unique card that will be issued to all Filipino citizens and alien residents of the Philippines. It will be used to verify their identity and address. Notably, each enrolled application will be given a 12-digit number –the PhilSys Number or PSN – which is unique, randomly generated, and permanent. This being an official nationally recognized document, the PhilSys ID is a non-transferable ID that can be used for both public and private transactions. It can be used for proof of identity and public transactions.
No expiration date will apply to the PhilSys ID. Aside from children, all Filipinos will need to renew their registrations within the next five years. This involves the regular update of demographic information and biometrics.
The ID issued by the Philippines is a one-year renewal requirement for resident immigrants. This simply means that, unlike natural-born Filipino citizens, this group of people must renew their IDs yearly.
What is the Purpose of the Philippine National ID?
To put it simply, the Philippine National ID, or PhilSys ID, is designed to accomplish the following objectives:
Create a unified Philippine Identification system would allow authorities to track down all residents and Filipinos in the country;
Help people to easily access and avail of government services and programs. It's also beneficial for them to save money by accessing these benefits; AND
Establish a verifiable identity system that will make it easier for people to join the official financial sector and have access to various other services.
As you can see, the Philippine National ID would be extremely valuable for both public and private sector Filipinos and resident aliens in the country.
How to Download The PhilSys ID Application Form 1A
PhilSys applications can be completed in registration centers or online, as previously stated. The application form is available at the centers. Still, you can also fill it out online at https://register.philsys.gov.ph/#/eng via the PhilSys Web Portal.
It is really better to enter your information via the PhilSys online form as it is more convenient and you can easily correct any errors if you spot them. Because with the printed form, there's more room for erasures.
PSA PhilSys Form Printed Sample
You may check out this screenshot sample of the PhilSys Registration form below so you can get an idea of what this hardcopy looks like when you have a printed form in front of you.
This is what it looks like. It is 2 pages back to back. The first page contains the information where you enter your information. On the 2nd page are the printed instructions and tips on how to fill out the First page entries.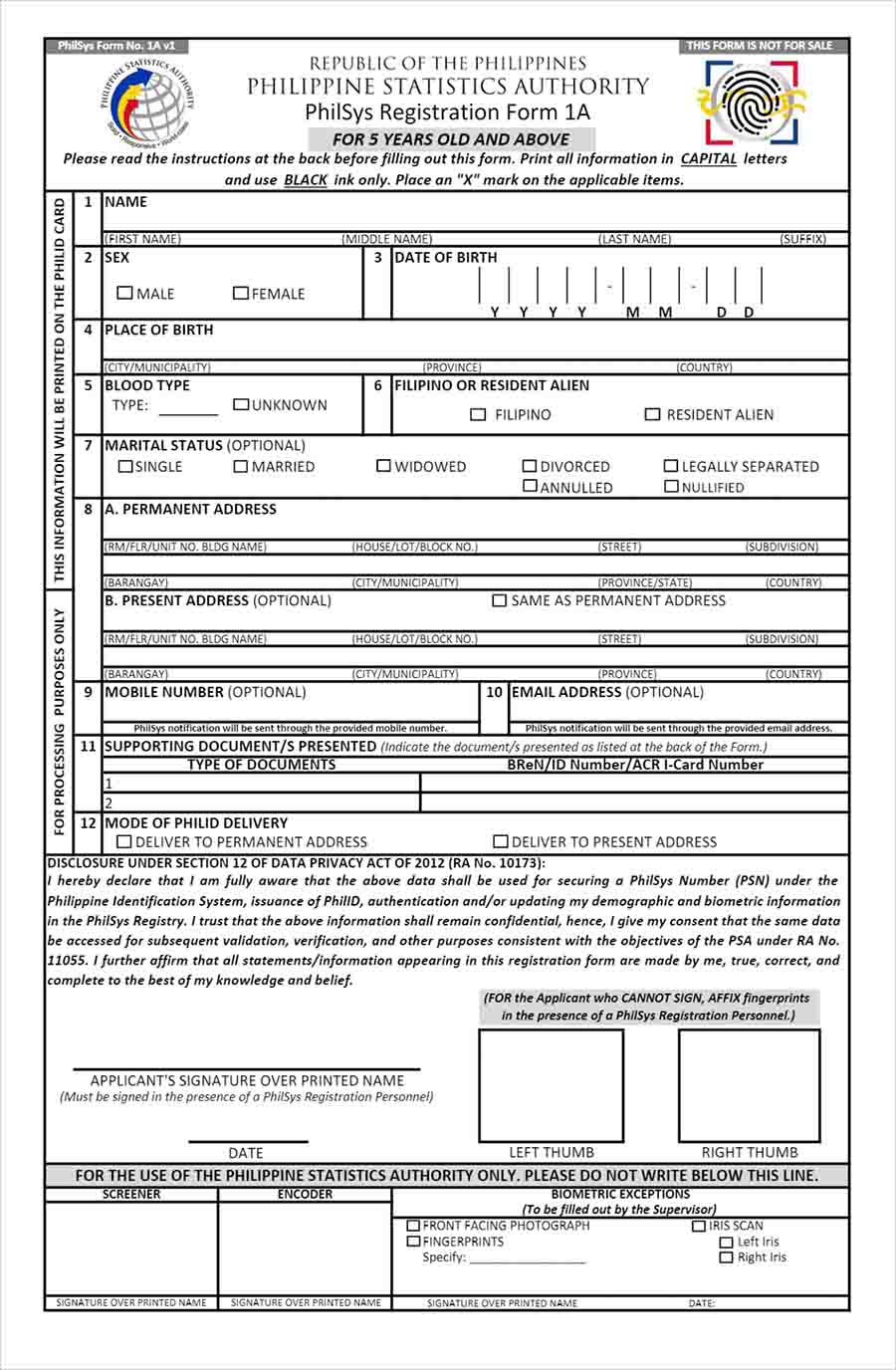 Screenshot of PSA PhilSys Registration Form 1A – 2nd page
Things to Provide in PhilSys Application Center
1. PhilSys Registration Form (Form No. 1)
This form is available at approved government agencies authorized to process Philippine ID applications (PhilSys).
2. Any of the following supporting documents:
a. an original copy of a PSA-issued birth certificate (formerly NSO)
b. Valid Philippine Passport,
c. SSS or GSIS-issued Unified Multi-purpose Identification (UMID) card,
d. NBI Clearance, or
e. Driver's License
Note: Your PhilSys ID application will be rejected if you do not provide any of these acceptable forms of identification.
So, before proceeding to the application branches, we strongly advise you to secure or double-check that you have at least one (1) of the documents listed above.
PhilSys ID Application Process
There are three key steps to register for a PhilSys ID:
STEP 1 entails providing demographic information and setting up an appointment for the next step;
STEP 2 entails validating demographic data and collecting biometrics; AND
STEP 3 entails the issuance of the PhilsSys Number (PSN) and PhilSys ID.
The first step is to fill out the PhilSys Application Form with your demographic information, which includes the following:
Full Name;
Sex;
Date of Birth;
Place of Birth;
Blood Type;
Permanent Address;
Nationality (Filipino or resident alien); AND
Marital Status (single, married, widowed, divorced, legally separated, annulled, or nullified).
The above-listed information will be printed on your PhilSys card. Meantime, the following is the set of data that will be collected for processing reasons only:
Present address (if applicable or if it's not the same as the permanent address);
Mobile Number;
Email Address;
Supporting Document(s) presented; AND
Mode of PhilSys ID Delivery (whether to your permanent address or your present address).
Applying for the PhilSys ID Online
There are two ways to apply for a PhilSys ID:
going to a registration center, or
submitting an online application.
Currently, several PhilSys Registration Teams are scouring the country for demographic data and biometric data. A Supervisor, a Screener, an Assistant, and three Encoders make up each team. STEP 1 and STEP 2 of the registration process are usually handled by the PhilSys Registration Team.
People can, on the other hand, register online. However, this would only include STEP 1 registration (the submission of demographic information). That being said, they would still need to go to a registration facility to confirm demographic information and capture biometrics for STEP 2 registration.
If you want to apply at a registration center, check the Philippine Statistic Authority's (PSA) website and Facebook page for the most up-to-date information on dates and locations. If you plan to apply online, however, you may follow these steps:
Go to https://register.philsys.gov.ph/#/eng and fill out all of the relevant information on the PhilSys Web Portal.
Make an appointment for STEP 2 registration at your preferred time. Keep a copy of your Application Reference Number (ARN) or QR Code for future reference.
Go to the authorized registration center on your appointment date. Remember to include any supporting documents, as well as your ARN or QR Code. You will have your demographic information validated and your biometrics captured at the center.
Watch for the delivery of your PhilSys Number (PSN) and PhilSys ID to your address. Simply show the courier your valid ID or transaction slip.
Will the PhilSys ID Replace other IDs?
No. Current IDs, including government IDs, will not be replaced by the PhilSys ID for specific reasons. While travelling internationally, a Philippine passport is still required. Likewise, a valid driver's license – one issued by the Land Transportation Office (LTO) – is also required for driving any land vehicle.
Video: Applying For The Philsys ID – A Step-by-Step Guide
Here's a step-by-step video tutorial on how to register, along with all the things you need to know, prepare, and do to accomplish your application smoothly. In addition to the above-listed sections, you can refer to this video tutorial for a more visual guide.
You can also pick up some useful tips from this guide prepared by the featured Pinoy vlogger.
Frequently Asked Questions
Here are some common questions and answers about the Philippine National ID registration process. Please be guided accordingly.
1. What is the difference between PhilSys, PSN, and PHilID?
This is crucial because each of these plays a unique role in the new ID system by the government. So, here's how you'll know which is which:
The Philippine Identification System (PhilSys) is the Philippine government's central identification platform for all Filipino citizens and resident aliens.
The PhilSys Number (PSN) is a 12-digit permanent identifying number that is provided to any citizen or resident alien after they successfully register with PhilSys.
The PhilID is a physical identification card that may be used to transact with the government and the private sector as legal evidence of identity. The card is non-transferable and is only given out after a successful PhilSys registration.
2. Is the PhilSys Registration Mandatory?
Although registration to PhilSys is NOT mandatory, it is highly recommended that citizens register their details to ensure that they can receive government services.
3. What is the Minimum Age for Registration to PhilSys?
Philsys accepts registrations for children up to the age of five. However, only their front-facing photograph and demographic information will be collected for those below five years old. Their full Biometric information will be stored until they reach the age of fifteen. They have to update and have their biometrics recaptured personally.
4. How Can OFWs Register For PhilSys?
The DFA and the PSA will develop a strategy for the registration of overseas Filipinos within 2021. The roll-out of the registration will follow this within 2022.
5. I don't feel comfortable going out still. How does PSA ensure that health and safety protocols are being implemented in the registration centers?
The guard takes the registrants' temperature and asks them to fill out a health declaration form before allowing them to enter the registration area. The registration staff ensures that registrants adhere to the registration facilities' health and safety protocols. There are additional health and safety reminders posted on the information materials.
6. How does the government ensure that my data will be secure?
PhilSys is a platform that aims to enable people to have better access to various public and private sector services.
PhilSys collects data is minimal and strictly restricted by the Data Privacy Act and the PhilSys Act. As a basic ID system, it does not collect personal data beyond what is needed to identify individuals.
Tokenization is a feature of PhilSys that involves replacing sensitive data with derivative data. Users can use two types of tokens: the PhilID Card Number and the Alyas PSN.
Private and public agencies can store their tokens for their respective databases. These tokens can be used to establish individuals' unique identities and cross-verify data collected by other agencies.
7. When will the PhilSys-enabled services become operational?
E-KYC and authentication services are expected to be launched by mid-2021, initially as pilot projects.
A Relying Party is a private or public sector institution that processes an onboarding process into PhilSys to enable their customers to identify and verify their identities following applicable laws and regulations.
In 2021, the launch of the PhilSys-enabled services will begin. This phase will gradually scale up to 2022 to provide a full suite of solutions for Relying Parties.
8. When Will the PhilID be Released?
The Philippine Statistics Authority (PSA) has partnered with the Bangko ng Pilipinas (BSP) to produce the PhilID. The BSP's card production operations were targeted to start in February 2021. Meanwhile, the PHLPost started its card delivery operations in May 2021.
9. How come there have been some delays in roll-out schedules for Steps 1-3 of Registration?
The PhilSys is a transformative project that aims to keep the registration of every Filipino up to date. It will allow the government to verify their identities digitally.
Due to the complexity and scale of the project, the Public Service Alliance is taking the time to thoroughly study all the possible solutions and develop effective risk mitigation strategies.
To ensure the smooth operation of the system, its tests are conducted regularly.
10. Where will registration centers be located?
The public can now register at the fixed registration centers operated by the local government units in their respective provinces.
Additional registration centers may be found on the official pages of SM Supermalls and Robinson Malls.
Summary
It's been several years since the government rolled out the PhilSys, but not everyone has registered yet. If you're one of these people, now's the perfect opportunity to do so. This guide should provide you with all the knowledge you need and an overview of what you can expect from your application.
Also, since our movements are still limited in public places, it's great to know that the PSA has set up a system to allow Filipinos to register conveniently from their homes using their computers or mobile devices.
All you need is an internet connection and Wi-Fi-capable devices, and you can register for Step 1 – this is if any PhilSys team hasn't visited you yet to help with your application.
Contact Information
You can contact the Philippine Statistics Authority (PSA) for more information on how to apply for your PhilSys ID using the following contact information:
Address: 2nd Floor TAM Building, PSA Complex, 1101 Quezon City, Philippines
Telephone: 1388 (hotline)
Email: info@philsys.gov.ph
Website: https://www.philsys.gov.ph/
Facebook: https://www.facebook.com/PSAPhilSysOfficial/