Filipinos who are applying for Philippine National ID in Region 2 can go to the PhilSys Registrations Centers located in the provinces of Cagayan, Isabela, Quirino, and Nueva Vizcaya. You can find the directory list of these PhilSys offices according to the city below.
Also Read: How to Check Status of Philippine National ID Delivery Online
The Philippine Identification System ID (PhilSys ID), often known as the Philippine Identification Card, is a government-issued identification card for Filipino citizens and foreign permanent residents in the Philippines.
After you complete the step 1 application process, you will need to set up an appointment in the nearest Philsys branch near you. Please check out the offices based in Region 2 in the list below.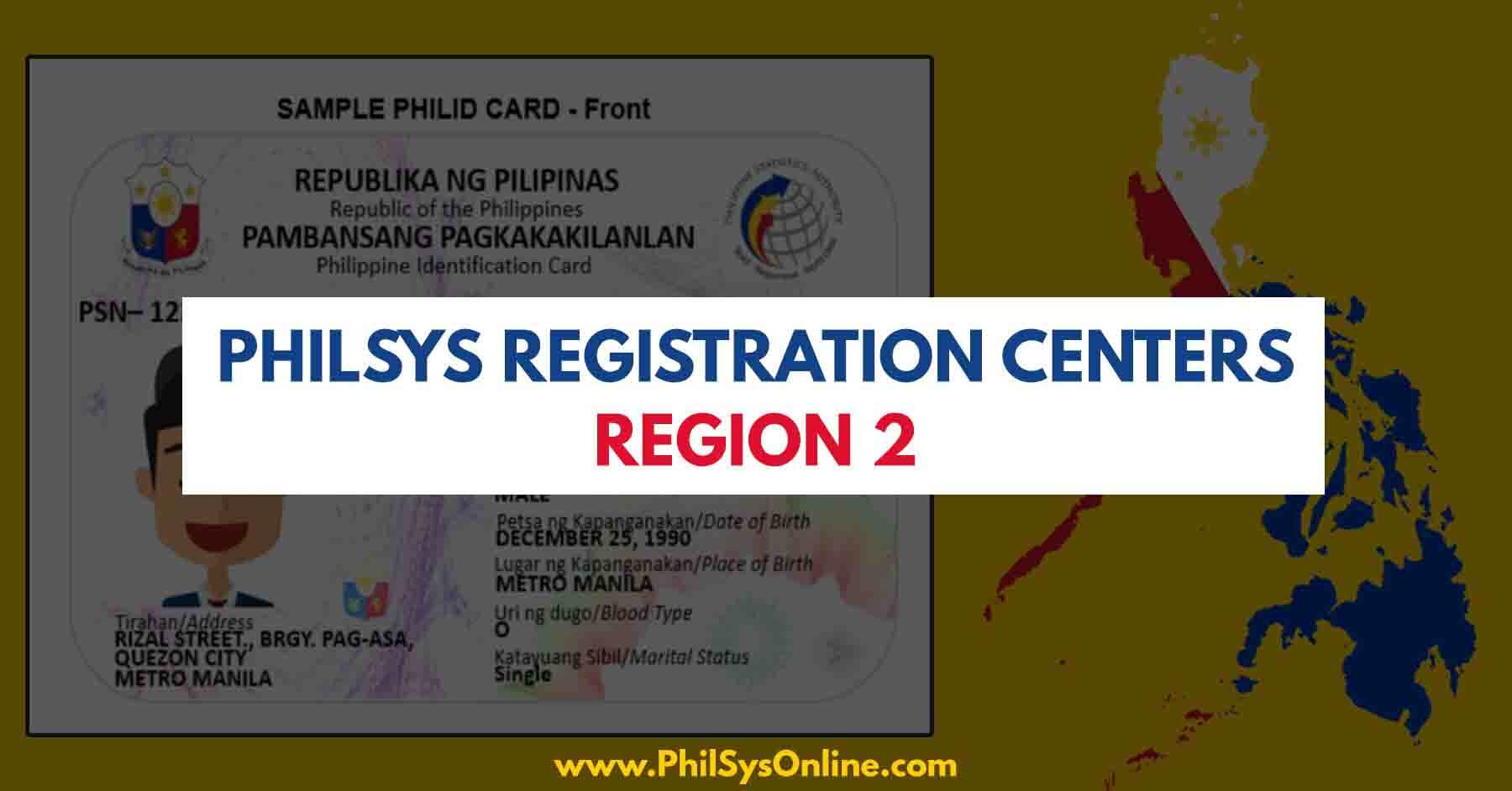 The Philippine ID card is one of the key elements of the Philippine Identification System (PhilSys), which will be implemented by the Philippine government. PhilSys is a platform that will allow us to simplify public and private transactions, as well as promote seamless social service delivery and financial inclusion through the use of a valid proof of identity.
The PhilSys will revolutionize how services are provided and accessed in the Philippines, as well as hasten our move to a digital economy, including through the use of paperless and cashless transactions.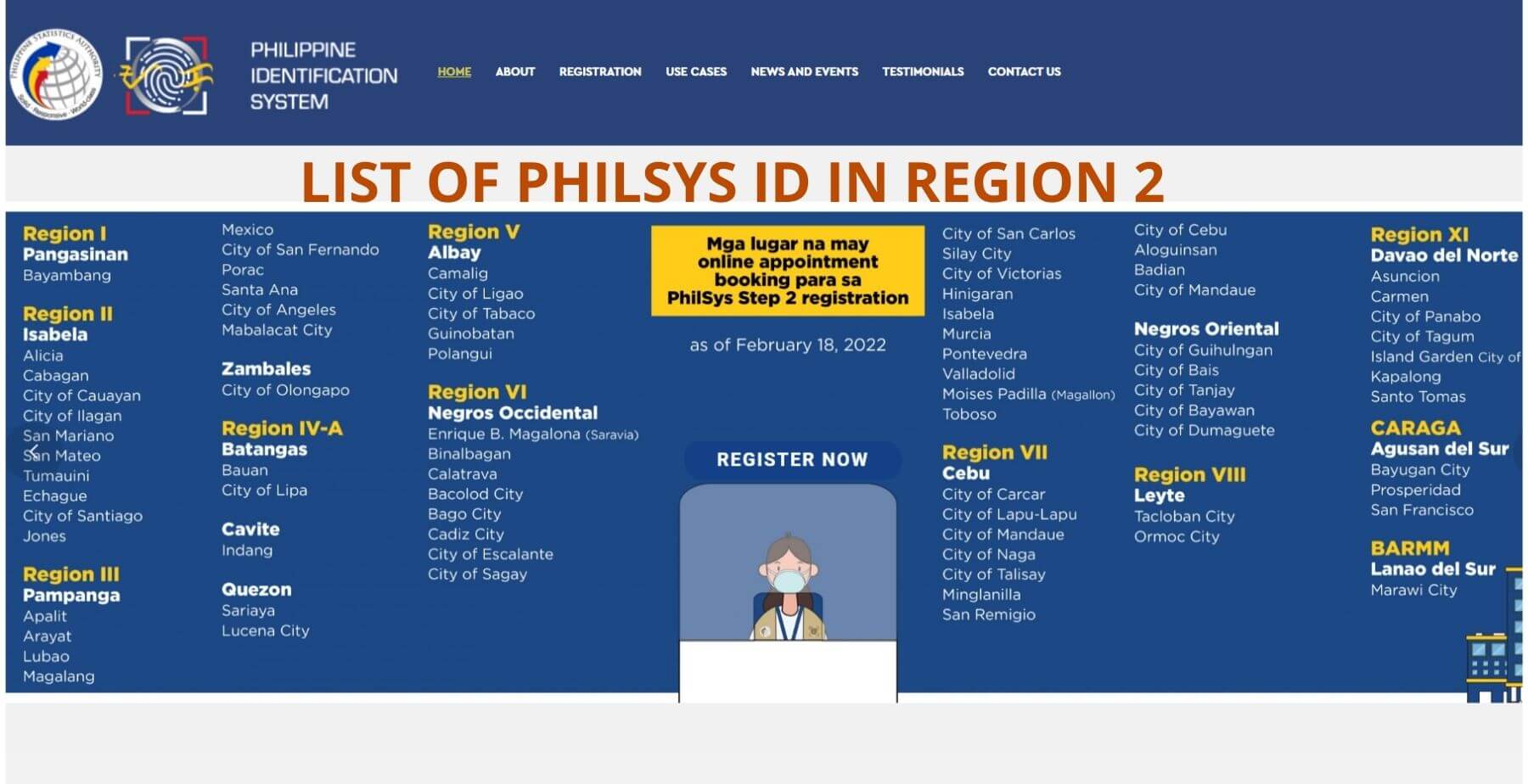 Directory: Philsys ID Office Locations in Region 2 Philippines
Here we are listing the locations in Region 2 on where to get the National ID. Please be guided accordingly:
PhilSys Registration Centers in Cagayan
Lallo
Address:Lal-lo Multi-purpose Center/Gymnasium (2nd Floor)
Lasam
Address: Western Cagayan School of Arts and Trades, Centro 03, Lasam, Cagayan
Penablanca
Address: Allocated office for PSA adajacent to the Municipal Hall with lock and aircon
Sanchez-Mira
Address: Rural Improvement Club Building Centro 1 Sanchez mira beside RHU
Santa Ana
Address: Municipal Gymnasium located in front of Municipal Hall
Solana
Address: Centro, Solana room beside Lingkod Bayan
Tuao
Address: Tuao West(Old Library)
Tuguegarao City
Address: SM DOwntown
Address: Robinsons Mall
Address: Dalan na Pagayaya, Regional Government Center, Carig Sur(at the back of PCIC)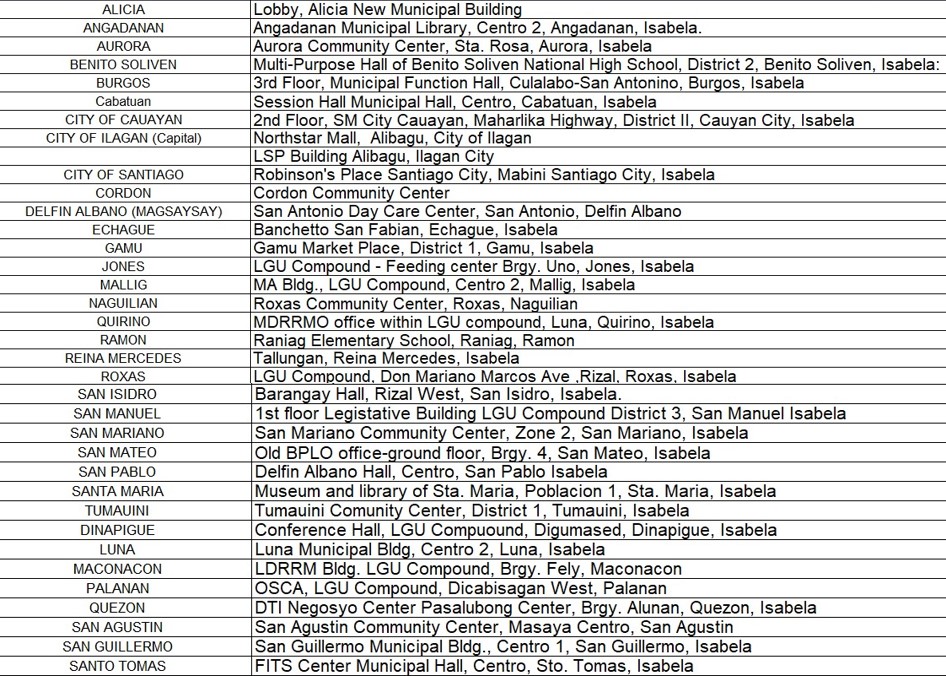 PhilSys Registration Centers in Isabela
Alicia
Address: Lobby, Alicia New Municipal Building
Angadanan
Address: Angadanan Municipal Library, Centro 2, Angadanan, Isabela
Aurora
Address: Aurora Community Center, Sta. Rosa, Aurora, Isabela
Benito Soliven
Address: Multi-Purpose Hall of Benito Soliven National High School, District 2, Benito Soliven, Isabela
Burgos
Address: 3rd Floor, Municipal Function Hall, Culalabo-San Antonino, Burgos, Isabela
Cabatuan
Address: Session Hall Municipal Hall, Centro, Cabatuan, Isabela
City of Cauayan
Address: 2nd Floor, SM City Cauayan, Maharlika Highway, District II, Cauyan City, Isabela
City of Iligan(Capital)
Address: Northstar Mall, Alibagu, City of Ilagan
City of Santiago
Address: Robinson's Place Santiago City, Mabini Santiago City, Isabela
Cordon
Address: Cordon Community Center
Delfin Albano(Magsaysay)
Address: San Antonio Da Care Center, San Antonio Delfin Albano
Echague
Address: Banchetto San Fabian Echague Isabela
Gamu
Address: Gamu Market Place District 1 Gamu Isabela
Jones
Address: LGU Compound – FeedingCenter Brgy. Uno Jones, Isabela
Mallig
Address: Ma Bldg., LGU Compound, Centro 2, Mallig, Isabela
Naguilian
Address: Roxas Community Center, Roxas, Naguilian
Quirino
Address: MDRRMO Office within LGU compound, Luna, Quirino, Isabela
Ramon
Address: Raniag, Elementary School, Raniag, Ramon
Reina Mercedes
Address: Tallugan, Reina Mercedes, Isabela
Roxas
Address: LGU Compound, Don Mariano Marcos Ave, Rizal, Roxas, Isabela
San Isidro
Address: Barangay Hall, Rizal West, San Isidro, Isabela
San Manuel
Address: 1st Floor Legistative Building LGU Compound District 3, San Manuel, Isabela
San Mariano
Address: San Mariano Community Center, Zone 2, San Mariano, Isabela
San Mateo
Address: Old BPLO office-ground floor, Brgy. 4, San Mateo, Isabela
San Pablo
Address: Delfin Albano Hall, Centro, San Pablo Isabela
Santa Maria
Address: Museum and library of Sta. Maria, Poblacion 1, Sta Maria, Isabela
Tumauini
Address: Tumauini Comunity Center, District 1, Tumauini, Isabela
Dinapigue
Address: Conference Hall, LGU Compound, Digumased, Dinapigue, Isabela
Luna
Address: Luna Municipal Bldg, Centro 2, Luna, Isabela
Maconacon
Address: LDRRM Bldg. LGU Compond, Brgy. Alunan Quezon, Isabela
Palanan
Address: OSCA, LGU Compound, Dicabisagan West, Palanan
Quezon
Address: DTI Negosyo Center Pasalubong Center, Brgy Alunanm, Quezon, Isabela
San Agustin
Address: San Agustin COmmunity Center, Masaya Centro, San Agustin
San Guillermo
Address: San Guillermo Municipal Bldg., Centro 1, San Guillermo, Isabela
Santo Tomas
Address: FITS Center Municipal Hall, Centro, Sto. Thomas, Isabela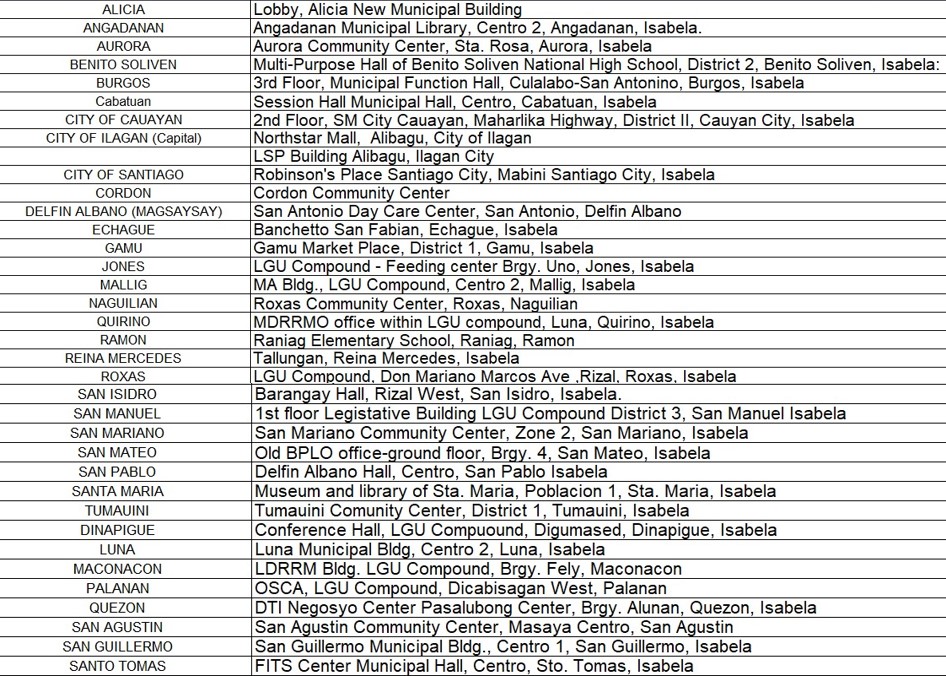 PhilSys Registration Centers in Nueva Vizcaya
Bayombong(Capital)
Address: Nueva Vizcaya Sports Complex, Don Domingo Maddela, Bayombong, Nueva Vizcaya

PhilSys Registration Centers in Quirino
Cabarrogius(Capital)
Address: Aguas Building, San Marcos
Diffun
Address: Barangay Gymnasium Aurora West
Maddela
Address: Barangay Gymnasium Poblacion Norte

Summary
The list of Philippine National ID registration centers in Region 2 is shown Above. Please note the steps you must take to apply and register your information when you create an account for the Philippine National ID.
You may apply online through the Philippine Statistics Authority (PSA) website and get an appointment. Please bring with you the required documents for verification purposes.