Filipinos who are applying for Philippine National ID in Region 3 can go to the PhilSys Registrations Centers located in the provinces of Aurora, Bataan, Bulacan, Pampanga, Tarlac, and Zambales. You can find the directory list of these PhilSys offices according to the city below.
Also Read: Why is there NO Signature on the Phil ID Card?
The Philippine Identification System ID (PhilSys ID), often known as the Philippine Identification Card, is a government-issued identification card for Filipino citizens and foreign permanent residents in the Philippines.
After you complete the step 1 application process, you will need to set up an appointment in the nearest Philsys branch near you. Please check out the offices based in Region 3 in the list below.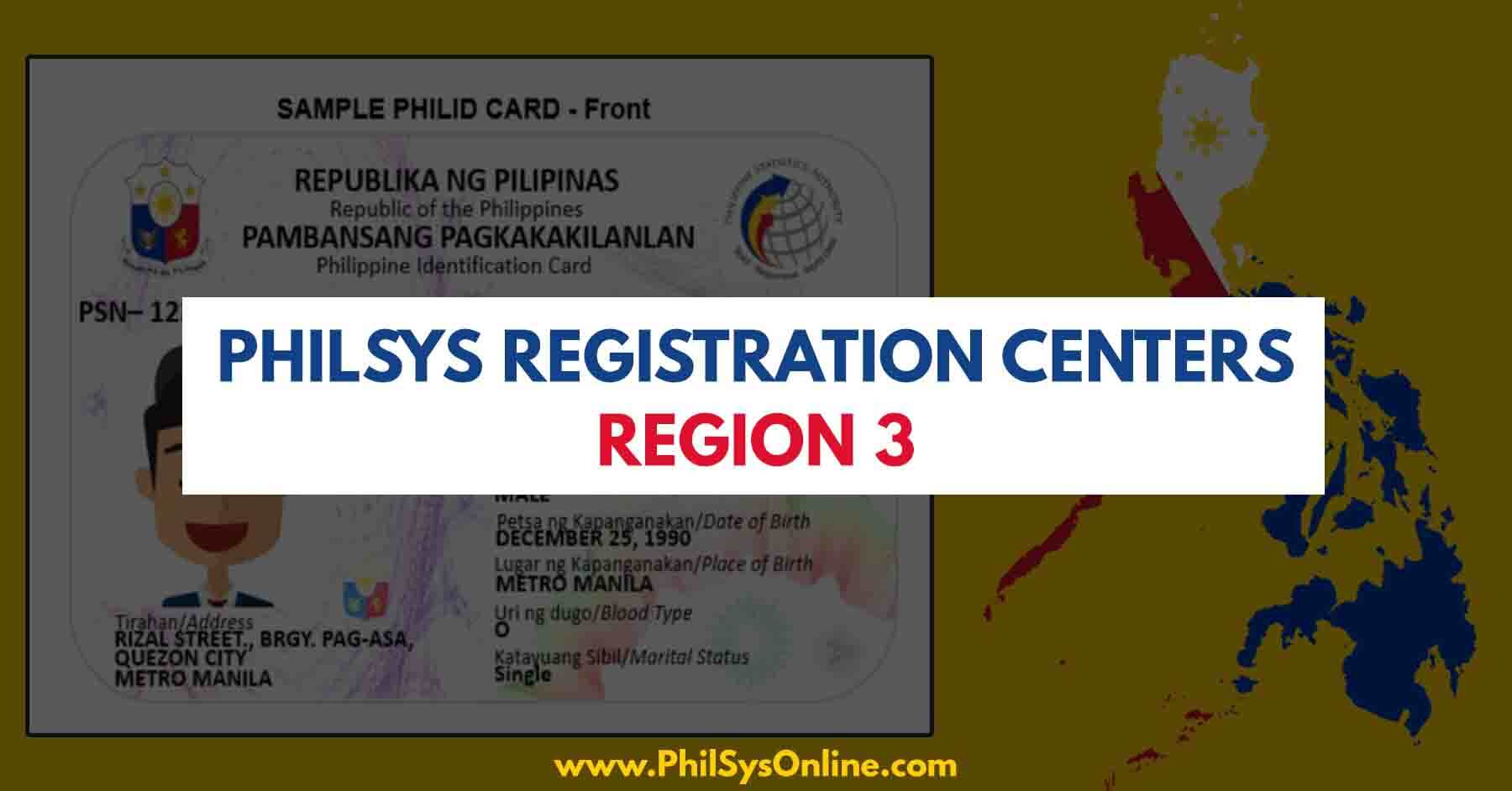 The Philippine ID card is one of the key elements of the Philippine Identification System (PhilSys), which will be implemented by the Philippine government.
PhilSys is a platform that will allow us to simplify public and private transactions, as well as promote seamless social service delivery and financial inclusion through the use of a valid proof of identity.
This ID system will revolutionize how services are provided and accessed in the Philippines, as well as hasten our move to a digital economy, including through the use of paperless and cashless transactions.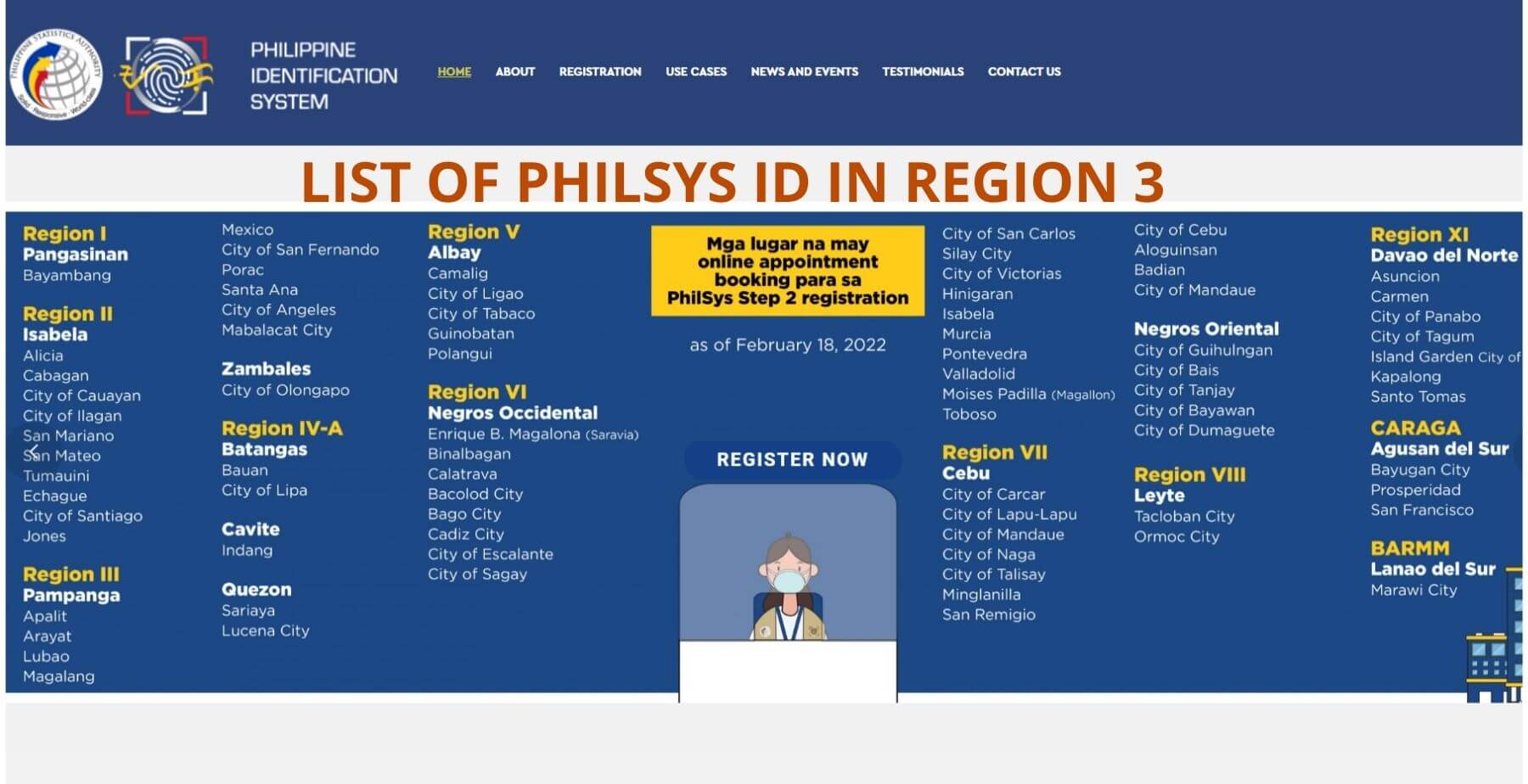 Directory: Philsys ID Office Locations in Region 3 Philippines
Here we are listing the locations in Region 3 on where to get the National ID. Please be guided accordingly:
PhilSys Registration Centers in Aurora
Baler(capital)
Address: JS Center, Brgy. Pingit, Baler
Maria Aurora
Address: Brgy. II Brgy Hall

PhilSys Registration Centers in Bataan
Abucay
Address: 2/F Old Municipal Hall, Abucay, Bataan
Hermosa
Address: palihan Barangay Hall, Hermosa, Bataan
Mariveles
Address: Authority of Freeport Area of Bataan
Orani
Address: Mini Command Center, Orani Bataan
Orion
Address: Lati Barangay Hall
Samal
Address: Samal National High School, Samal, Bataan

PhilSys Registration Centers in Bulacan
Angat
Address: Angat Development and Credit Cooperative Building San Roque, Angat, Bulacan
Balagtas(Bigaa)
Address: 2nd Floor Balagtas Town Center Mac Arthur Hwy Brgy. Borol 1st, Balagtas, Bulacan
Baliuag
Address: 2nd Floor Wellness Zone SM City Baliwag, DRT Highway, Pagal, Baliuag, Bulacan
Bocaue
Address: Ground FLoor New Bocaue Municipal Hall Extension, Igulot, Bocaue, Bulacan
Address: CityMall Bocaue Mc ARthur Highway, Brgy. Bunlo, Bocaue, Bulacan
Bulakan
Address: Kindergarten room, Gen. Gregorio H. Del Pilar Central School, Sta . Ana Bulakan, Bulakan
Bustos
Address: Bustos Library – Octagon Building, Poblacion , Bustos, Bulacan
Calumpit
Address: Tesda Training Center, Poblacion, Calumpit, Bulacan
City of Malolos(Capita)
Address: 4th Floor Robinson's Place Malolos, Macarthur Highway, Sumapang Matanda, City of Malolos, Bulacan
Address: 3rd FLoor Vista Mall, Longos, City of Malolos, Bulacan
Address: 2nd Floor Waltermart SHopping Center Malolos KM 45, Mcarthur Highway Brgy, Longos Malolos , Bulacan
City of Meycauayan
Address: Ground Floor City of Meycauayan Convention Center, Poblacion, Bulacan
Address: EMA Town Center, Robinsons Townville, El Camino real, Meycauayan, Bulacan
City of San Jose Del Monte
Address: Upper Ground FLoor Starmall San Jose Del Monte, Kaypian, City of San Jose Del Monte, Bulacan
Address: Victory Mall SJDM 2nd Floor(beside FC Home Center) Barangay Bagong Buhay I, Bulacan
Guiguinto
Address: Waltermart Guiguinto – Food Court area2 Brgy Ilang-Ilang, McArthur Highway, Bulacan
Hagonoy
Address: 3rd Floor Function Hall, Hagonoy Municipal Hall, Sto. Nino, Bulacan
Marilao
Address: 3rd Floor Municipal Hall Annex Building, Patubig, Marilao, Bulacan
Address: SM MarilaoRegistration Center, 2nd Floor beside Banapple SM Marilao Brgy. Ibayo , Marilao, Bulacan
Norzagaray
Address: 2nd Floor Municipal Building, Municipal Compound, Norzagaray, Bulacan
Obando
Address: 2nd Floor Obando Birthing Station Building, J.P Rizal St. Paliwas, Obando, Bulacan
Pandi
Address: 2nd Floor Pnadi Technological Institute, Poblacion, Pandi, Bulacan
Plaridel
Address: 2nd Level Walermart Plaridel, Cagayan Valley Road, Banga 1, Plaridel, Bulacan
Address: SM Pulilan Barangay Sto Cristo Pulilan Bulacan
Pulilan
Address: Pulilan Municipal Gymnasium, Poblacion, Pulilan, Bulacan
Address: SM Pulilan Barangay Sto Cristo Pulilan Bulacan
San Ildefonso
Address: 3rd Floor San Ildefonso COmmercial Complex, Poblacion, San Ildefonso, Bulacan
San Miguel
Address: 2nd Floor New Building, San Miguel Municipal Hall, Poblacion, San Miguel, Bulacan
San Rafael
Address: San Rafael Municipal Compound(beside Victory Colliseum), Sampaloc, San Rafael, Bulacan
Santa Maria
Address: 2nd Floor WalterMart-Sta. Maria, Bypass Road, Sta Clara, Bulacan
Address: Mustasa St, Brgy. Tumana, Santa Maria, Bulacan
Address: Cityland km. 39 Pulong Buhangin Sta. Maria Bulacan
Dona Remedios Trinidad
Address: Bahay Pag-asa RHU Compound, Pulong Sampaloc, DRT, Bulacan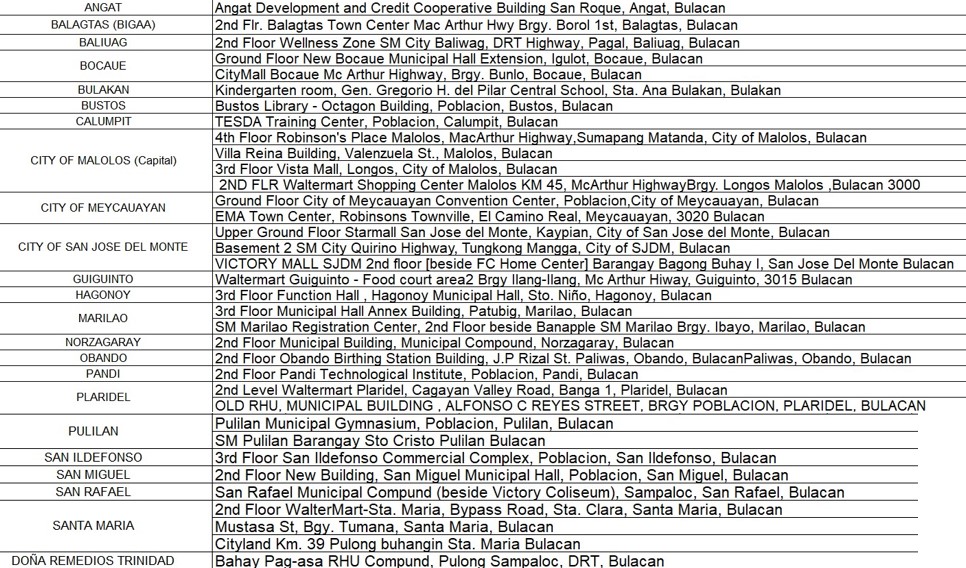 PhilSys Registration Centers in Pampanga
Apalit
Address: ECCD Building, Brgy San Juan, Municipality of Apalit
Arayat
Address: Funtion hall Building of Municipality of Arayat, Plazang Luma, Arayat, Pampanga
Candaba
Address: Old Barangay Hall, Bgy Paralaya, Candaba, Pampanga
City of Angeles
Address: 3rd Floor Robinsons Balibago, Angeles City, Pampanga
Address: 3rd Floor, Marquee Mall, Angeles City, Pampanga
Address: Ground Floor, SM Clark, Angeles City, Pampanga
Address: 3rd Floor, Jenra Mall, Angeles City,
City of San Fernando(Capital)
Address: 3rd Floor Vista Mall San Fernando, Pampanga
Address: 2nd Floor RObinson's Starmills San Fernando, Pampanga
Address: GF 3 & 1 Bldg., Phase1, Davsan Subd., Sindalan, City of San Fernando, Pampanga
Address: Ground Floor, SM Telebastagan, City of San Fernando, Pampanga
Guagua
Address: Andres P. Goseco Bldg Plaza Burgos Guagua Pampanga
Lubao
Address: Old Municipality of Lubao. Senior Citizen building, Plaza San Nicolas 1st, Lubao, Pampanga
Macabebe
Address: Municipal Plaza (Waiting Area)Poblacion, Macabebe, Pampanga
Mexico
Address: Brgy Hall of San Antonio Tinejero, San Antonio Mexico, Pampanga
Address: SM Pampanga, Mexico, Pampanga
Mabalacat City
Address: Mabalacat City College
Address Brgy. Hall. Dapdap, Mabalacat

PhilSys Registration Centers in Tarlac
Bamban
Address: Bamban Public Library, Brgy. San Nicolas(pob), Bamban, Tarlac
Camiling
Address: Camiling Sports Complex, Brgy. Poblacion B, Camiling, Tarlac
Capas
Address: 2nd Floor Waltermart Capas, Brgy. Sto. Domingo 2nd, Capas, Tarlac
Tarlac City
Address: Downtown/Metrotown Mall, Brgy. Sto. Cristo, Tarlac City, Tarlac
Address: Citywalk Mall, Brgy. San Vicente, tarlac City, Tarlac
Address: MMTan Building Mc Arthur Highway, Ligtasan, Tarlac City
Address: City mall, Brgy . San Rafael, Tarlac City, Tarlac
Address: 2nd Floor SM City Tarlac. San ROque, Tarlac City, Tarlac
Concepcion
Address: Jessie Lapuiz, Sports Complex, A Bonifacio St., San Nicolas Poblacion
Gerona
Address: 3rd Floor Primark Mall, Poblacion 3, Gerona, Tarlac
La Paz
Address: Zubiri Hall (In front of Municipal Hall), Brgy San. Isidro, La Paz, Tarlac
Moncada
Address: Auditorium Cafe II, Mc Arthur Highway, Brgy. Poblacion 1, Moncada, Tarlac
Paniqui
Address: Magic Star Mall, Brgy. Poblacion Norte, Paniqui, Tarlac
San Jose
Address: San Jose Municipal Hall, Brgy Villa Aglipay, San Jose, Tarlac
San Manuel
Address: Sabn Manuel Libryary, Brgy. Poblacion, San Manuel, Tarlac
Victoria
Address: Bulwagan ng Kalayaan, Brgy. San Gavino, Victoria, Tarlac

PhilSys Registration Centers in Zambales
Botolan
Address: Atop Chinabank BLdg., Purok 1A Brgy. Batonlapoc, Botolan
Cabangan
Address: Ground Flr., SB Building, Municipal Compound, Brgy. Dolores, Cabangan
Candelaria
Address: DSWD Multipurpose Building, Training Center, Brgy. Catol, Candelaria
Castillejos
Address: PRMSU Castillejos Bldg., Brgy. San ROque, Castillejos
City of Olangapo
Address: Former Livelihiood Bldg., Ohio St., Upper Kalaklan, Brgy. Kalaklan, Olongapo City
Address: 2nd Floor, Ayala Harbor Point Mall, SUbic Bay Freeport Zone
Address: 3rd FLoor, SM City Central, Olongapo City
Iba
Address: Former NBI Iba Satellite Office, National Road, Zone 4 Iba
Masinloc
Address: PRMSU Bldg., Brgy. North Poblacion, Palauig
Palauig
Address: Senior Citizen Building, Brgy. West Poblacion, Palauig
San Antonio
Address: Municipal Library, Brgy. San Juan, San Antonio
San Felipe
Address: Municipal Centrum, Nat'l. RD., Brgy. Feria, San Felipe
San Marcelino
Address: 2nd Floor, Municipal Hall, National Highway, Brgy. Central, San Marcelino
San Narciso
Address: 2nd Floor OSY Bldg., Municipal Hall, National Highway, Brgy. Libertad, San Narciso
Santa Cruz
Address: Municipal Multipurpose Function Hall, Brgy. Poblacion South, Santa Cruz
Subic
Address: Former Tourism Office, Brgy. Calapandayan, Subic

Summary
The list of Philippine National ID registration centers in Region 3 is shown Above. Please note the steps you must take to apply and register your information when you create an account for the Philippine National ID.
You may apply online through the Philippine Statistics Authority (PSA) website and get an appointment. Please bring with you the required documents for verification purposes.
One government ID, as well as its associated problems, has greatly reduced the effort required to access important public services. All fundamental data on one person, such as phone numbers, criminal records, and loans, will be kept in the identification card.