Filipinos who are applying for Philippine National ID in Region 4A can book an appointment to visit the PhilSys Registrations Centers located in the provinces of Cavite, Laguna, Batangas, Rizal, and Quezon (aka CALABARZON region). You can find the directory list of these PhilSys offices according to the city below.
Also Read: Do you Need to Renew your PhilSys ID?
The Philippine Identification System ID (PhilSys ID), often known as the Philippine Identification Card, is a government-issued identification card for Filipino citizens and foreign permanent residents in the Philippines.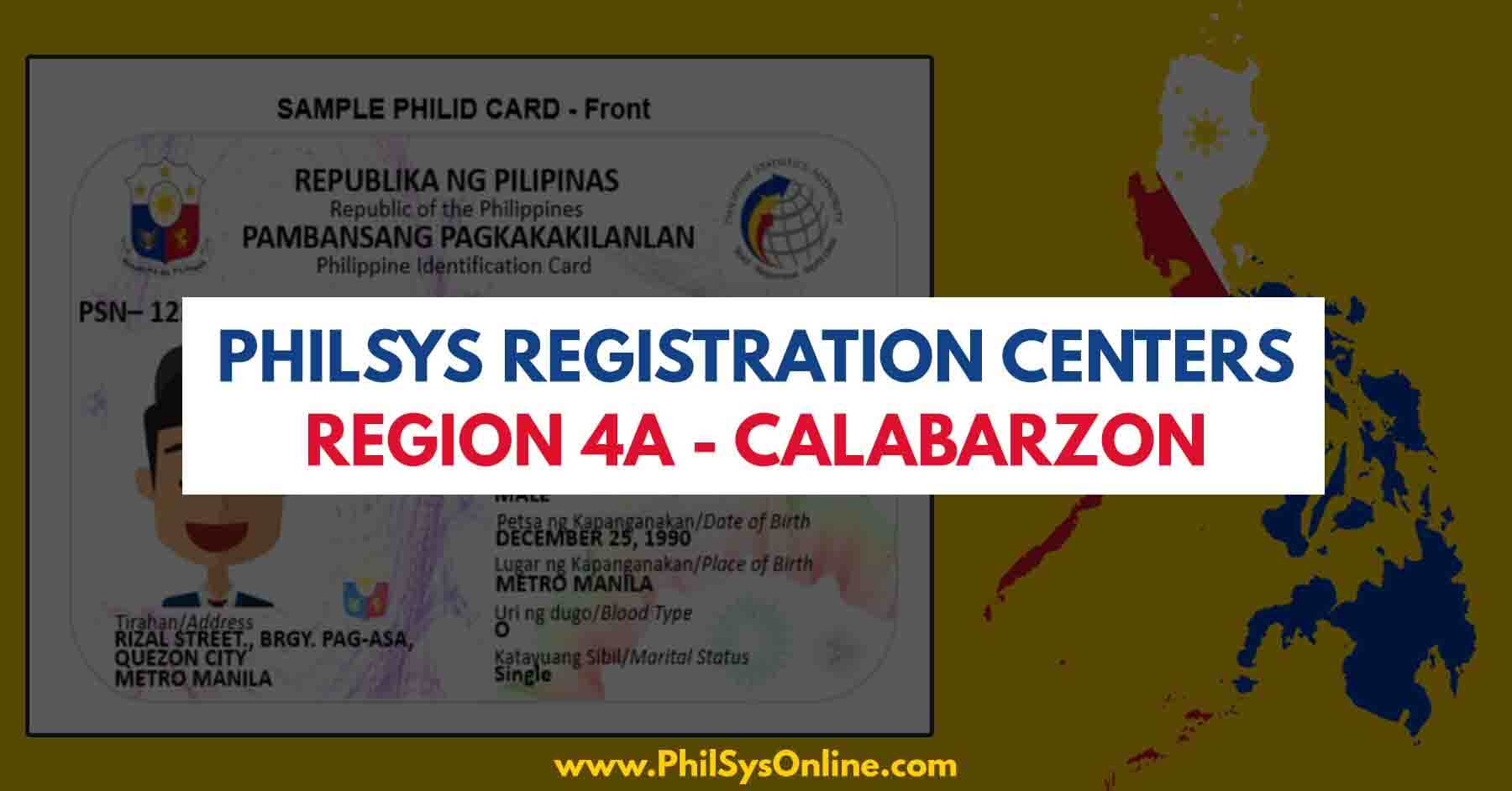 The Philippine ID card is one of the key elements of the Philippine Identification System (PhilSys), which will be implemented by the Philippine government. PhilSys is a platform that will allow us to simplify public and private transactions, as well as promote seamless social service delivery and financial inclusion through the use of a valid proof of identity.
The PhilSys will revolutionize how services are provided and accessed in the Philippines, as well as hasten our move to a digital economy, including through the use of paperless and cashless transactions.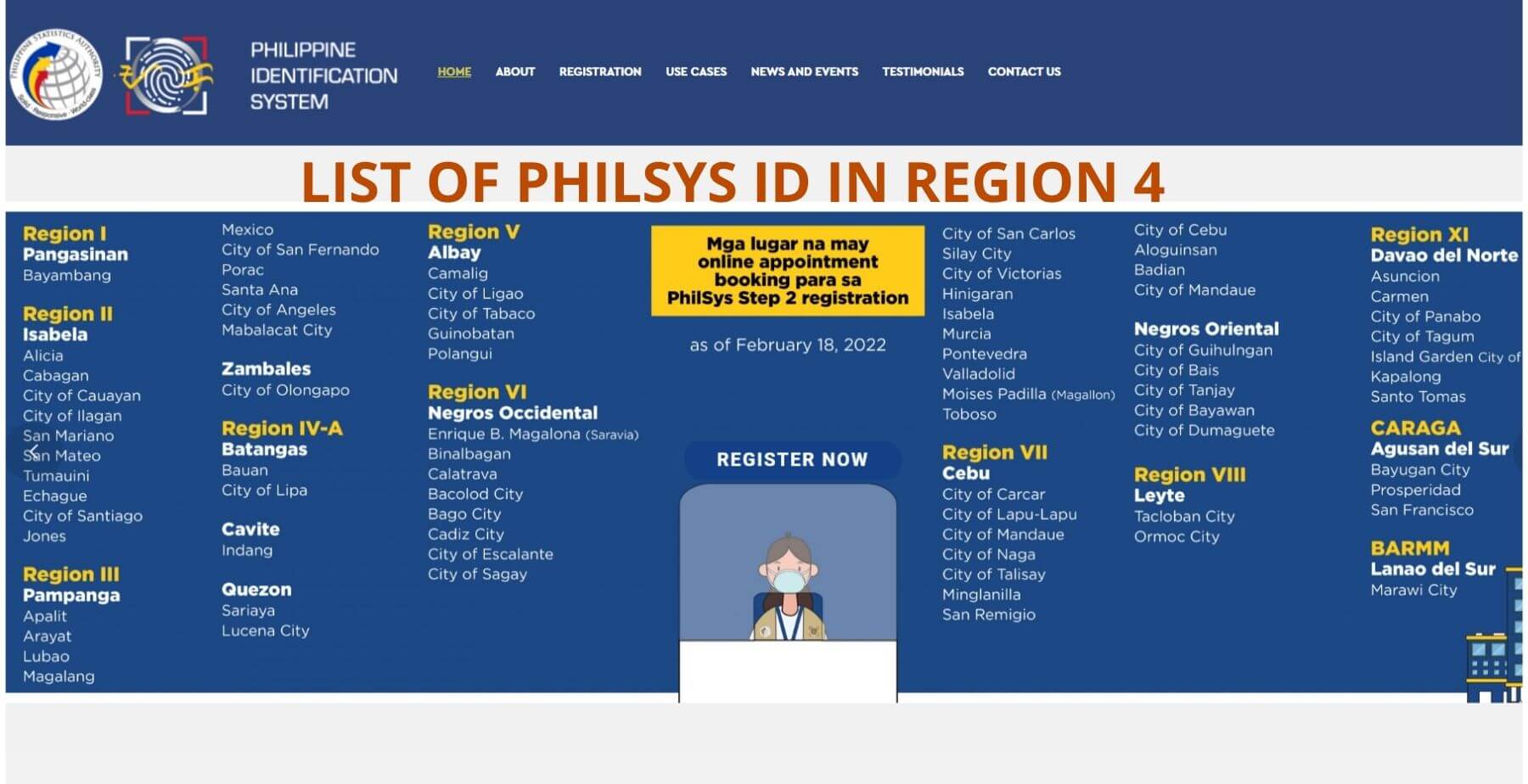 Directory: Philsys ID Office Locations in Region 4A (CALABARZON) Philippines
After you complete the step 1 application process, you will need to set up an appointment in the nearest Philsys branch near you. Please check out the offices based in Region 3 in the list below.
Here we are listing the locations in Region 4A on where to get the National ID. Please check the directory on each of the locations below:
PhilSys Registration Centers in Batangas
Batangas City(Capital)
Address: Office of City Vetenerary Training Center
Address: SM Batangas City
Address: Bay City Mall Batangas
Bauan
Address: Bauan Technical Integrated High School- AVR Room, Pob. I, Bauan, Batangas
Calatagan
Address: Calatagan Public Market
City of Lipa
Address: Fiesta World Mall Corp, Brgy. Marawoy, Lipa City
Address: SM Lipa City
Address: Robinsons Place Lipa
Ibaan
Address: MSW Extension Office, Ibaan Municipal Hall
Laurel
Address: 2nd floor LMBS Bldg, Muncipal Compound
Lobo
Address: Near Lobo Municipal Police Station. Numeriano Babao St. Barangay Poblacion, Lobo Batangas
Address:Nasugbu WalterMart
Padre Garcia
Address: Padre Garcia Gymnasium
Rosario
Address: OB Montessori of Rosario
San Jose
Address: San Jose Training Center
San Pascual
Address: Day Care room (at the back of DSWD), Municipal Compound
Taal
Address: Rural Health Unit, Taal, Batangas
Taysan
Address: Old Municipal Building, Poblacion West
Cuenca
Address: Old Agri Bldg, Cuenca Municipal Hall Compound, Pob 5
City of Tanauan
Address: Modesto Castillo Cultural Center, Pob 1
Address: WalterMart Tanauan
San Nicolas
Address: San Nicolas Central School
City of Sto. Tomas
Address: Sto Tomas City Hall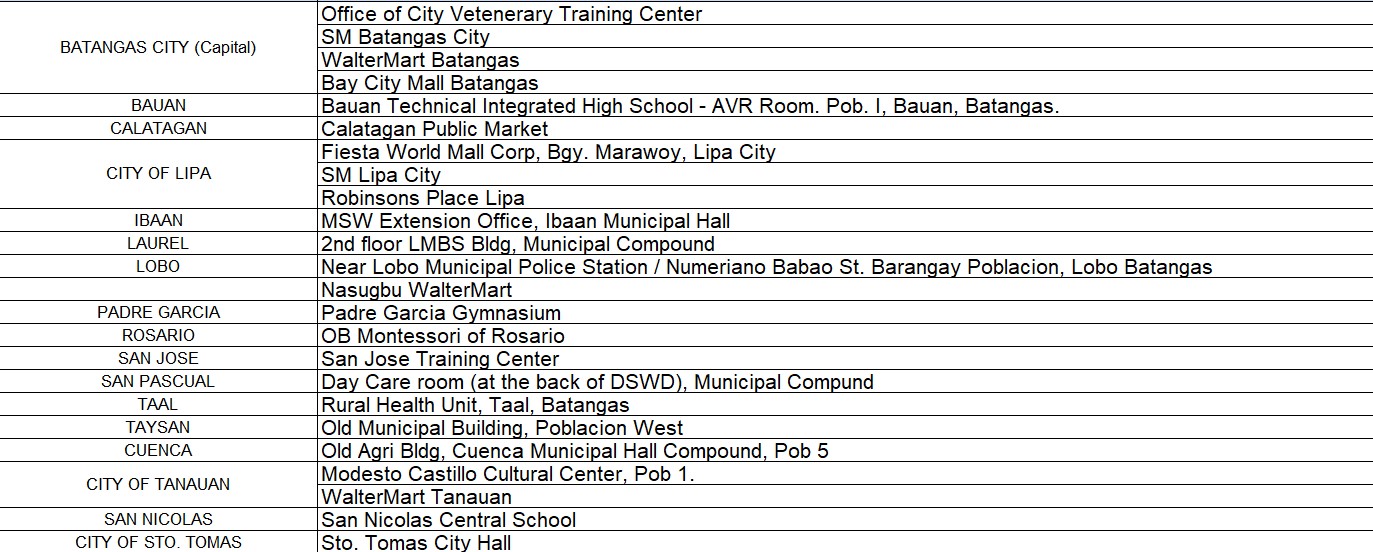 PhilSys Registration Centers in Cavite
Amadeo
Address: Amadeo Municipal Covered Court, A. Mabini St., Brgy. 6 Anadeo, Cavite
City of General Trias
Address: Robinsons Place General Trias, EPZA-Bacao, A. Soriano Highway, Diverson Road, Gen. Trias City, Cavite
Address: Brgy. Manggahan Multipurpose Hall, Manggahan, Gen. Trias City, Cavite
Gen. Mariano Alvarez
Address: GMA Portal Mall, Brgy. Polbacion I, Gen Mariano Alvarez, Cavite
Kawit
Address: New Municipal Hall, Kawit, Cavite
Silang
Address: Multi-Purpose Training Hall (Near DILG Office)/ Enrile Bdlg., CAVSU CAMPUS, Silang, Cavite
Alfonso
Address: ALfonso Central School, Alfonso, Cavite
City of Bacoor
Address: 2nd Floor Level(Near Herbench and Towmsworld), Sm City Bacoor, City of Bacoor, Cavite
Address: l2 2nd Floor, Sm City Molino, Molino-Paliparan Road, Bacoor City, Cavite
Address: Vista Mall SOmo, Molino – Paliparan Road, Molino IV
Address: Talaba Elementary School, Talaba IV, Bacoor City , Cavite
Address" Maliksi Elementary School, Gen. Evangelista Street, Brgy. Maliksi, City of Bacoor, Cavite
Carmona
Address: Carmona Elementary School, Purification St., Carmona, Cavite
City of Dasmarinas
Address: Loc 268 2nd floor (Beside Unisilver), SM City Dasmarinas , Cavite
Address: 2nd floor Annex Bldg, Robinsons Dasmarinas, Cavite
Address: District Mall Dasmarinas, Brgy. Salawag, City of Dasmarinas, Cavite
Address: Vista Mall, Dasmarinas, Brgy. San Agustin2, Cavite
Address: Central Mall Dasmarinas, Emilio Aguinaldo Hwy, Salitran Road , City of Dasmarinas, Cavite
General Emilio Aguinaldo
Address: Ground Floor (Near MPDC Office) New Municipal Bldg., Brgy Castanos Cerca, Gen. Emilio Aguinaldo, Cavite
City of Imus
Address: SM Center Imus(Beside GreenTelecom, near Mall Plaza) Bucandala 3, City of Imus, Cavite
Address: Robinsons Place Imus, Emilio Aguinaldo Highway, City of Imus Cavite
Address: 2nd Floor, The District Imus Mall, Anabu 2B, Daang Hari Road, Cor Emilio Aguinaldo Hwy, Imus City , Cavite
Indang
Address: Early Childhood Care and Development(ECCD), Opposide side of Inading National High School, Indang, Cavite
Magallanes
Address: Magallanes Multipurpose Hall, De Guia St., Brgy. 4
Maragondon
Address: 2nd Floor FITS(Library), Maragondon, Cavite
Mendez(Mendez-Nunez)
Address: Mendez Covered Court, Poblacion 2, Mendez, Cavite
Naic
Address: Stadium SHopping Strip, Antero Soriano Highway, Brgy. Munting Mapino, Naic, Cavite
Noveleta
Address: Noveleta Action Center, Noveleta, Cavite
City of Tagaytay
Address: Level 2 Robinsons Tagaytay KM58, Aguinaldo Highway, Brgy. Maharlika West, Tagaytay City, Cavite
Address: Ayala Malls Serin, Silang Crossing East, Tagaytay City, Philippines
Tanza
Address: Tanza Computer Center, Business Center Bldg., Daang Amaya I, Tanza, Cavite
Address: Ayala Malls Serin, Silang Crossing East, Tagaytay City, Philippines
Ternate
Address: ALS Learning Center Parang Elementary School, H. Ventura St., Brgy. Poblacion 1A, Ternate, Cavite
City of Terece Martires
Address: 2nd Level (Neart the SM Store Entrance), Sm City Trece Martires City, Cavite
Address: Boochico Holding INc., San Agustin, Trece Martires City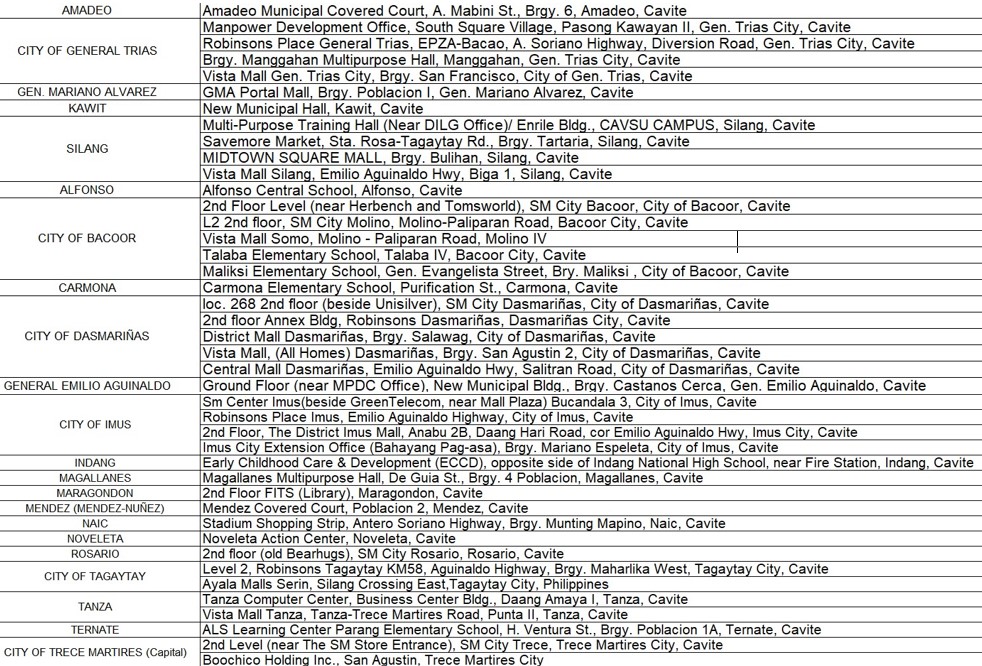 PhilSys Registration Centers in Laguna
City of San Pablo
Address: Government Employees Parking, Lauro DIzon St., Brgy. V-C, San Pablo City
Address: FRC – Go Bldg., Laguna Provincial Statistical Office, Maharlika Highway, Brgy. Bagong Bayan, San Pablo City
Address: SM City San Pablo, San Pablo
City of Cabuyao
Address: 3rd Floor Retail Plaza, J.P. Rizal Brgy Poblacion 2
City of Calamba
Address: Calamba City Hall, Ground flr.
Address: SM City Calamba
Address: City Mall Calamba
Address: Walter Mart Makiling
Address: Brgy. Punta, Barangay Hall
Address: Brgy. Canlubang – Sitio Kapayaan Brgy Hall
Calauan
Address: Barangay Limao Barangay Hall
Cavinti
Address: Cavinti Covered Court, Oflaria St. Brgy. Poblacion
Los Banos
Address: Robinsons Place Los Banos
Magdalena
Address: Magdalena Training Center Dept of Agriculture Building, Brgy. Poblacion
Majayjay
Address: MDRRMC Office, Brgy San Miguel
Nagcarlan
Address: Nagcarlan Central Elementary School
Paete
Address: Tourist Information Center and Negosyo Center, Brgy 9
Pakil
Address: National Child Development Center, Brgy. Tavera
City of San Pedro
Address: Robinsons Galleria South, Brgy Nueva
Address: San Pedro Relocation Center National Highschool
Address: Brgy. Magsaysay
Santa Cruz(Capital)
Address: 2nd floor Metro Central Mall
Santa Maria
Address: Sta Maria Academy
City of Santa Rosa
Address: Sm City Sta Rosa, Sta Rosa
Address: RObinsons Sta Rosa, Brgy Tagapo
Address: 2nd Floor WalterMart (Bel-Air) Barangay Pulong Sta Cruz
Address" Santa Rosa Central I Elementary School
Siniloan
Address: 2nd Floor New Building Municipal Hall Compound, Brgy. G Redor
PhilSys Registration Centers in Rizal
City of Antipolo (Capital)
Address: Robinson's Place Antipolo – 2nd Floor Lingkod Pinoy Center
Address: PSA Fixed Registration Center – G/F Budgetlane SHopping Center Circumferential Rd. Antipolo City
Address: Sm Masinag – Upper Ground Level, Marikina_infanta Highway Masinag, Mayamot Antipolo City
Address: 2nd floor Victory Park and Shop M.L Quezon St. Cor. P. Oliveros St. Barangay San Isidro Antipolo City
Angono
Address: SM Center Angono – 2nd Floor in front of World of Fun
Tanay
Address: Tanay Town Center, Xentromall Savemore Tanay, Rizal
Address: JP Rizal Ave. Extension Office Sampaloc Tanay, Rizal
Binangonan
Address: Gaisano Capital Binangonan – Ground Floor Gaisano Bldg. Manila East Road, Calumpang, Binangonan
Cainta
Address: Big R (Robinson's Mall Cainta) – 3F Robinsons Cainta, Ortigas Ave. Extension, Sto Domingo, Cainta Rizal
Address: Sta. Lucia Grand Mall – 2nd Floor Phase 2, Sta Lucia East Grand Mall, Marcos Highway Cor. Felix ave., Cainta Rizal
Rodriguez(montalban)
Address: Colegio De Montalban – LAB 1 3/F PRRC Bldg. Colegio De Montalban Kasiglahan Village Brgy. San Jose, Rodriguez Rizal
Address: Burgos Elementary School Brgy. Burgos Rodriguez, Rizal
Morong
Address: Morong Towncenter
Taytay
Address: Sm Center Taytay – Bdlg. B Basement 1
Teresa
Address: Senior Citizen's Bldg. Brgy. Poblacion Teresa, Rizal
San Mateo
Address: SM San Mateo – 3rd Floor Gen. Luna St. Ampid 1 San Mateo, Rizal

PhilSys Registration Centers in Quezon
Candelaria
Address: Waltermart Candelaria, Quezon
Sariaya
Address: Brgy. Hall Singapore Street Versatile Subd. Mamala II Sariaya, Quezon
Agdangan
Address: Mun. Library Bldg, Mun . Hall Bldg Agdangan, Quezon
Atimonan
Address: Barangay Hall, Brgy Tagbakin, Atimonan, Quezon
Buenavista
Address: Municipal Covered Court, Brgy Pobl. buenavista, Quezon
Calauag
Address: Calauag Livelihood Center, Calauag Quezon
Catanauan
Address: Ground Floor., Annex Building, Municipal Hall, Don Abella Drive, Brgy 09, Catanauan, Quezon
General Nakar
Address: Municipal Hall, Brgy. Anoling, Gen. Nakar, Quezon
Infanta
Address: Infanta Commercial Center, Pob 1 Infanta, Quezon
Lopez
Address: Lopez Municipal Training Center, Brgy. Villahermosa, Lopez Quezon
Lucban
Address: Municipal Bldg, Quezon Ave. Lucban, Quezon
Macalelon
Address: Municipal covered Court, Brgy. ROdriguez Macalelon, Quezon
Mulanay
Address: Municipal Bldg., Pob. 1 Mulanay, Quezon
Padre Burgos
Address: Municipal Hall, Brgy Burgos, Padre Burgos. Quezon
Pagbilao
Address: Pagbilao National High SChool, Brgy Mapagong, Pagbilao Quezon
Perez
Address: Senior Citizens Bldg., Brgy. Pinagtubigan Weste, Perez, Quezon
Plaridel
Address: 3rd Floor Municipal Hall, Brgy. M.L. Tumagay, Plaridel Quezon
Polillo
Address: Polilo Sports Complex, LGU Polilo, Quezon
San Andres
Address: 2nd Floor, San Andres Public Market, Brgy. Poblacion, San Andres, Quezon
San Francisco(Aurora)
Address: Senior Citizen Hall, Brgy. Poblacion, San Francisco, Quezon
San Narciso
Address: San Narcisco Covered Court, Brgy Maligaya, San Narciso Quezon
Tagkawayan
Address: Office of the Senior Citizens Affair, Local Government Unit Tagkawayan, QuezonMaxi Drive, Brgy Poblacion, Quezon
Tiaong
Address: City Mall, Brgy Lalig, Tiaong, Quezon
City of Lucena(Capital)
Address: 3rd Floor, Pacific Mall, Tagarao St. Brgy 3, Lucena City/SM City Lucena

Summary
The list of Philippine National ID registration centers in Region 4A is shown above. Please note the steps you must take to apply and register your information when you create an account for the Philippine National ID.
You may apply online through the Philippine Statistics Authority (PSA) website and get an appointment. Please bring with you the required documents for verification purposes.
One government ID, as well as its associated problems, has greatly reduced the effort required to access important public services. All fundamental data on one person, such as phone numbers, criminal records, and loans, will be kept in the identification card.