Filipinos who are applying for Philippine National ID in Region 1 can go to the PhilSys Registrations Centers located in the provinces of Ilocos Norte, Ilocos Sur, La Union and Pangasinan. You can find the directory list of these PhilSys offices according to the city below.
Also Read: How to Check Status of Philippine National ID Delivery Online
The Philippine Identification System ID (PhilSys ID), often known as the Philippine Identification Card, is a government-issued identification card for Filipino citizens and foreign permanent residents in the Philippines.
After you complete the step 1 application process, you will need to set up an appointment in the nearest Philsys branch near you. Please check out the offices based in Region 1 in the list below.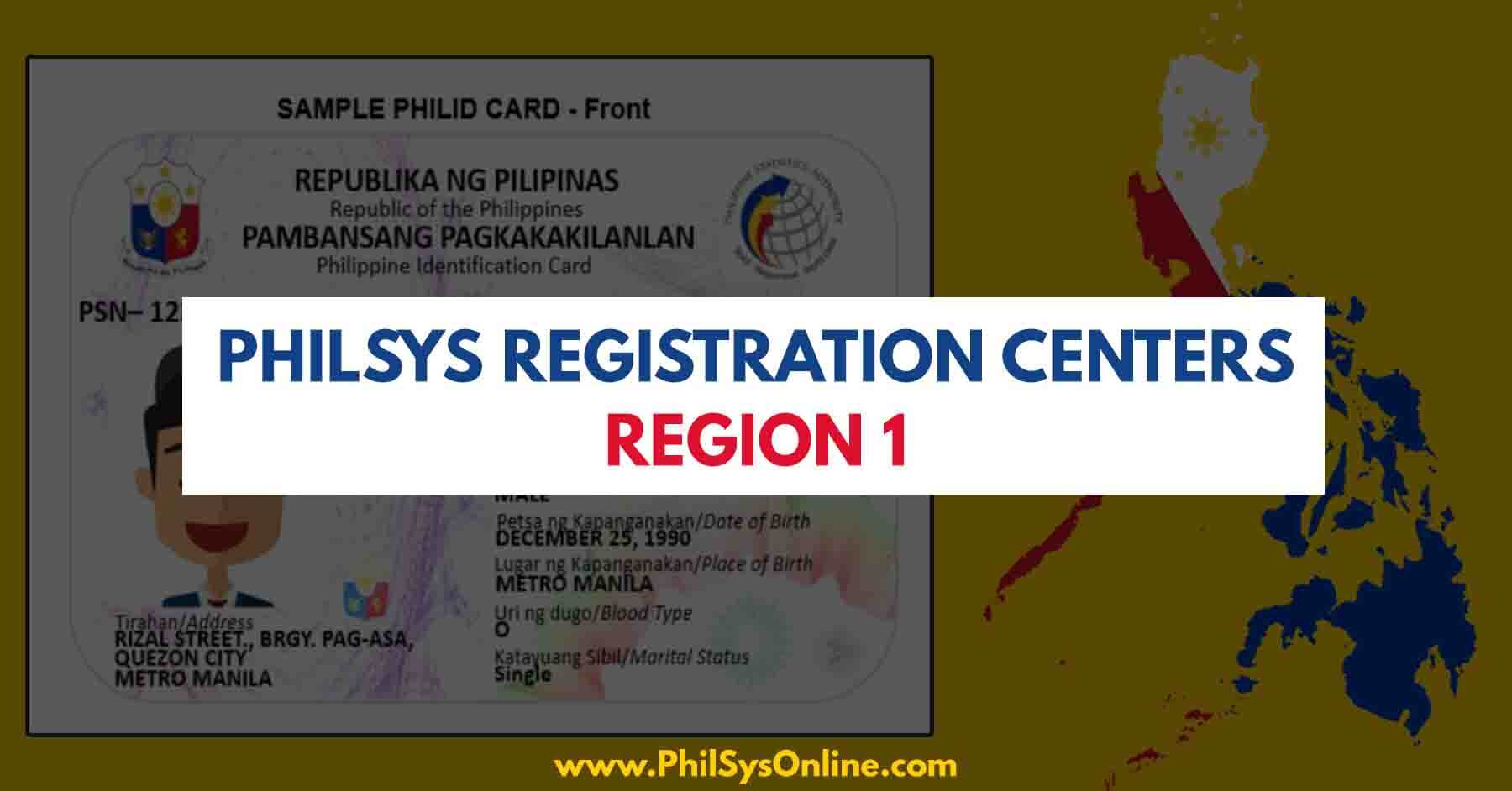 The Philippine ID document is an important component of the Philippine Identification System (PhilSys), which will be implemented by the Philippine government. PhilSys is a platform that will help us simplify public and private transactions, as well as promote seamless social service delivery and financial inclusion through the use of a valid proof of identity.
The PhilSys will transform how services are provided and accessed in the Philippines, as well as accelerate our transition to a digital economy, including by allowing for paperless, and cashless transactions.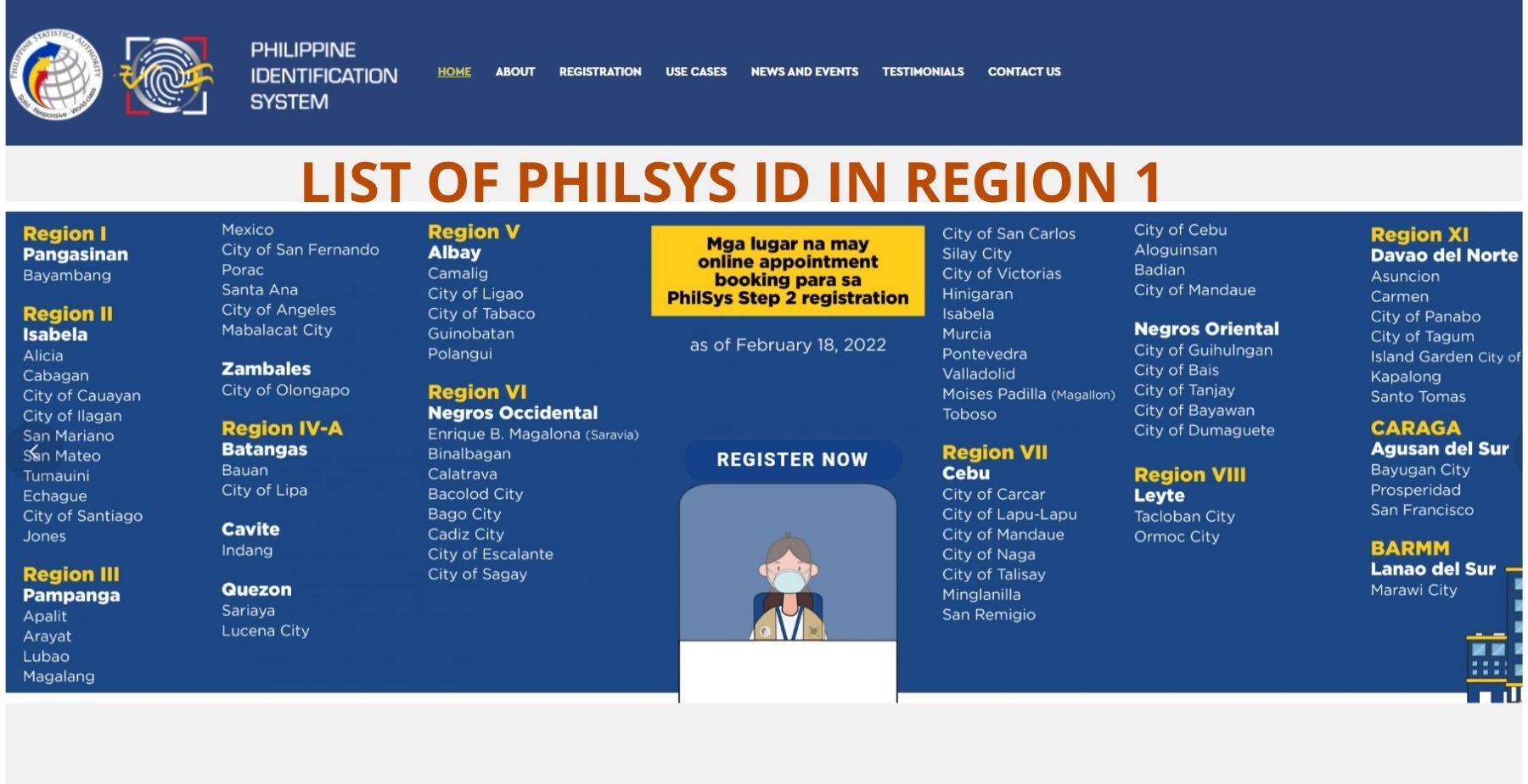 Directory: Philsys ID Office Locations in Region 1 Philippines
Here we are listing the locations in Region 1 on where to get the National ID:
PhilSys Registration Centers in Ilocos Norte
Bacarra
Address: Municipal Building Extension, Brgy. 1 Sta Rita, Bacarra
City of Batac
Address:2nd Floor, Riverside Building
Dingras
Address: Burgos AUditorium
Pagudpud
Address: Dingras Municipal Hall
Pinili
Address: Municipal Library, Brgy. Valbuena, Pinili
San Nicolas
Address: Robinsons Ilocos, San Nicolas
Address: IT Bar Building, Valdez Center, Brgy. 1. San Nicolas
Solsona
Address: Brgy. Juan Hall, Solsona

PhilSys Registration Centers in Ilocos Sur
Cervantes
Address: Beside Municipal Gymnasium and Comelecc, Rosario, Cervantes, Ilocos Sur
City of Candon
Address: CDRRMO Extension Office, Back of Canteen, Beside GSO Office, Candon City
City of Vigan(Capital)
Address: Vigan Landmark Commercial Center II, UNP Tower Center, Quirino Blvd., Brgy., Vigan City, Ilocos Sur
Santa Maria
Address: 2nd Floor Municipal Hall, Santa Maria, Ilocos Sur
Sinait
Address: Municipal Hall – Former Municiopal Trial Court, Sinait, Ilocos Sur
Tagudin
Address: NTA Building(Auditorium), Tagudin, Ilocos Sur

PhilSys Registration Centers in La Union
Aringay
Address: Municipal E-Library, Aringay, La Union
Bacnotan
Address: Municipal COvered Court, Bacnotan, La Union
Bauang
Address: 2nd Floor, Office of Senior Citizens Affair Bldg., Bauang, La Union
City of San Fernando(Capital)
Address: Dona Pepita Bldg., Quezon Ave., Brgy II(FRC)
Address: Marcos Bldg., San Fernando City, La Union
Rosario
Address: Farmers Civic Center, Rosario La Union
Santol
Address: Legislative Building, Santol La Union
Sudipen
Address: Senior Citizen's Office, Sudipen, La Union

PhilSys Registration Centers in Pangasinan
Alcala
Address: 2nd Floor TESDA Training Center, Poblacion East, Alcala, Pangasinan
Bani
Address: Tourism Building, Bani, Pangasinan
Bayambang
Address: Rizal Hall, Bayambang Events Center, Poblacion, Bayambang, Pangasinan
Binalonan
Address: Techno Hub Office, Bonalonan, Pangasinan
Binmaley
Address: 2nd Floor Binmaley Training Center, Binmaley, Pangasinan
Bolinao
Address: Tourism Building, Bolinao, Pangasinan
Bugallon
Address: Day Care Center, Poblacion, Bugallon, Pangasinan
Calasiao
Address: 2nd Floor, Robinson's Place, Urdaneta-Dagupan Road, Brgy. San Miguel
Address: MB Lim Annex Bldg, De Venecia Rd, Nalsian, Calasiao, Pangasinan
City of Alaminos
Address: Left Wing Sison Convention Center, Poblacion, Alaminos, Pangasinan
City of Dagupan
Address: SM Center, MH Del Pilar St. Dagupan City
City of San Carlos
Address: 2nd Floor San Carlos Town Center, Brgy Rizel, San Carlos City
City of Urdaneta
Address: Sm City Urdaneta Central, Mac Arthur Highway Brgy. Nancayasan City of Urdaneta Pangasinan 2428
Dasol
Address: 2nd Floor Legislative Bldg., Poblacion, Dasol, Pangasinan
Infanta
Address: Old RHU Building, Poblacion, Infanta, Pangasinan
Lingayen(Capital)
Address: Ma ilas Hall Pan asinan Provincial Police Office Libson West Lin a en Pan asinan
Malasiqui
Address: Arenas Civic Center Rizal St. Malasi ui Pan asinan
Manaoag
Address: Tourism Buildin Poblacion Manaoa Pan asinan
Mangaldan
Address: Pasalubon Center Baran a Poblacion Man aldan
Mangatarem
Address: ABC Bldg. Man atarem Pangasinan
Mapandan
Address: ABC SESSION HALL Pandan Ave. Ma andan Pangasinan
Rosales
Address: 2nd Level SM CITY ROSALES Mac Arthur Highwa Carmen East Rosales Pangasinan
San Fabian
Address: Municipal Disaster Risk Reduction & Management office 2nd floor(in front of East Central Elementary School), San Fabian Pangasinan
San Jacinto
Address: Senior Citizens Hall DA Bldg. (beside San Guillermo Barangay Hall) San Guillermo San Jacinto, Pangasinan
San Manuel
Address: Municipal Hall former office of MDRRMO San Manuel Pangasinan
Santa Barbara
Address: Sta. Barbara Town Hall, Maningding Sta. Barbara
Tayug
Address: Tayug Municipal Library Ground Floor Don Teofilo T. Alas Sr. Memorial Hall Tayug,Pangasinan
Burgos
Address: Municipal Hall Extension, Burgos, Pangasinan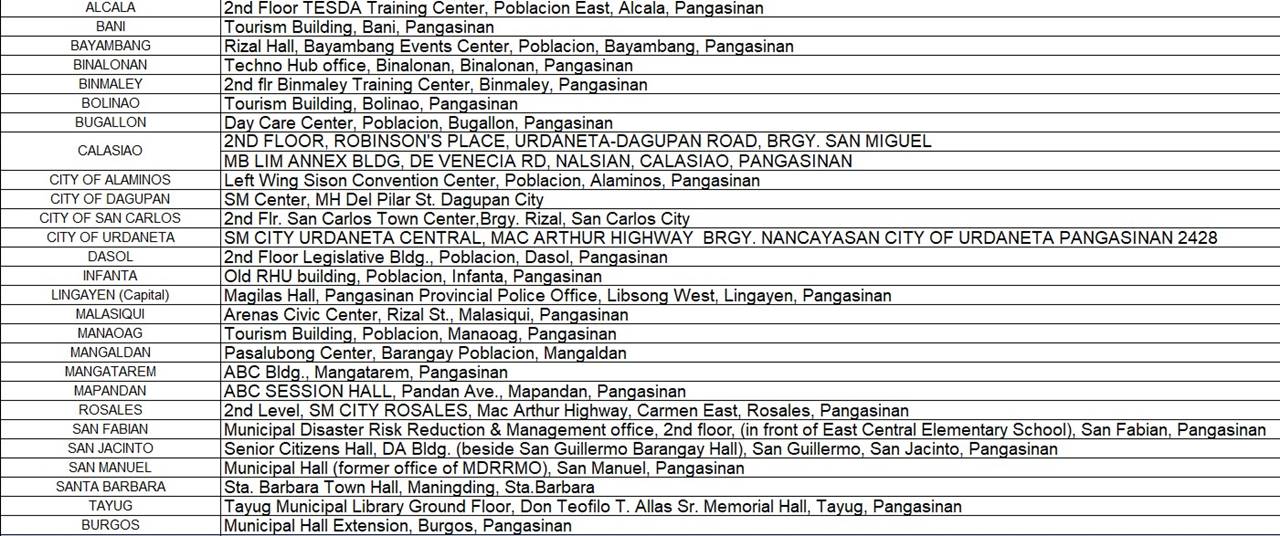 Benefits
When transacting with the government or private businesses such as GSIS, SSS, PhilHealth, Pag-IBIG, or voter registration, you do not need to show additional valid IDs if have you a Philippine National ID.
One government ID, as well as its associated problems, has greatly reduced the effort required to access important public services. All fundamental data on one person, such as phone numbers, criminal records, and loans, will be kept in the identification card.
The national identification will also include secured identification features, as it will be equipped with biometric chips.
Requirements
Primary Documents
PSA-issued Certificate of Live Birth AND one (1) government-issued identification document which bears the full name and signature or thumb mark.
DFA-issued Philippine Passport or ePassport
GSIS or SSS-issued Unified Multi-purpose Identification Card (UMID);
Land Transportation Office (LTO)-issued Student's License Permit or Non-Professional/Professional Driver's License
Secondary Documents
PSA-issued Certificate of Live Birth/NSO-issued Certificate of Live Birth with Birth Reference Number (BreN)
LCRO-issued Certificate of Live Birth
PSA-issued Report of Birth
PSA-issued Certificate of Foundling
Overseas Workers Welfare Administration (OWWA) ID
Seaman's Book
Senior Citizen's ID
Voter's ID
Professional Regulatory Commission (PRC) ID
Integrated Bar of the Philippines (IBP) Identification Card
License to Own or Possess Firearms (LTOPF) ID
SSS ID
Pantawid Pamilyang Pilipino Program (4Ps) ID
NBI Clearance
Police Clearance/ID
Solo Parent's ID
Residence ID from other countries
Postal ID
Taxpayer Identification Number (TIN) ID
Philhealth ID
Philippine Retirement Authority (PRA)-issued Special Resident Retiree's Visa (SRRV)
A national ID from other countries
PWD ID
Video: Learn about PhilSys National ID System
You can check her video explaining more information about Philsys or National ID
Frequently Asked Questions
1. Is there a deadline for using the National ID?
The PhilID of Filipinos has no expiration date while the PhilID issued to resident aliens is only valid for one (1) year.
2. What is the purpose of national ID in the Philippines?
The national ID should be genuine proof of identification that may be used to simplify public and private transactions, school enrollment, and bank account creation.
3. Is national ID mandatory?
National ID is not mandatory. PSA-11 stated that the introduction of a single national ID would be much simpler to communicate with any government or private organization using a single national ID.
4. Can I change my address in my National ID?
A Philippine National ID holder may correct some information in his or her previous data, as long as it is significant, such as a change of address or status, according to PhilSys criteria. A National ID is the only acceptable proof of identity that will be accepted in major transactions like banks and other private organizations.
5. Is the national ID valid?
Under the Philippine Identification System (PhilSys), which was implemented by President Rodrigo Duterte, the new national ID must be accepted as sufficient proof of identity and age in all government and private transactions, according to an order.
Summary
Above is the list of Philippine National ID registration centers in Region 1. Please be guided on how you can apply and register your details when you sign up for the Philippine National ID.
You may apply online through the Philippine Statistics Authority (PSA) website and get an appointment. Please bring with you the required documents for verification purposes.