Filipinos who are applying for Philippine National ID in Cordillera Administrative Region can go to the PhilSys Registrations Centers located in the Abra, Apayao, Benguet, Ifugao, Kalinga, and Mountain Province. You can find the directory list of these PhilSys offices according to the city below.
Also Read: What are the PhilSys Registration Requirements?
The Philippine Identification System ID (PhilSys ID), often known as the Philippine Identification Card, is a government-issued identification card for Filipino citizens and foreign permanent residents in the Philippines.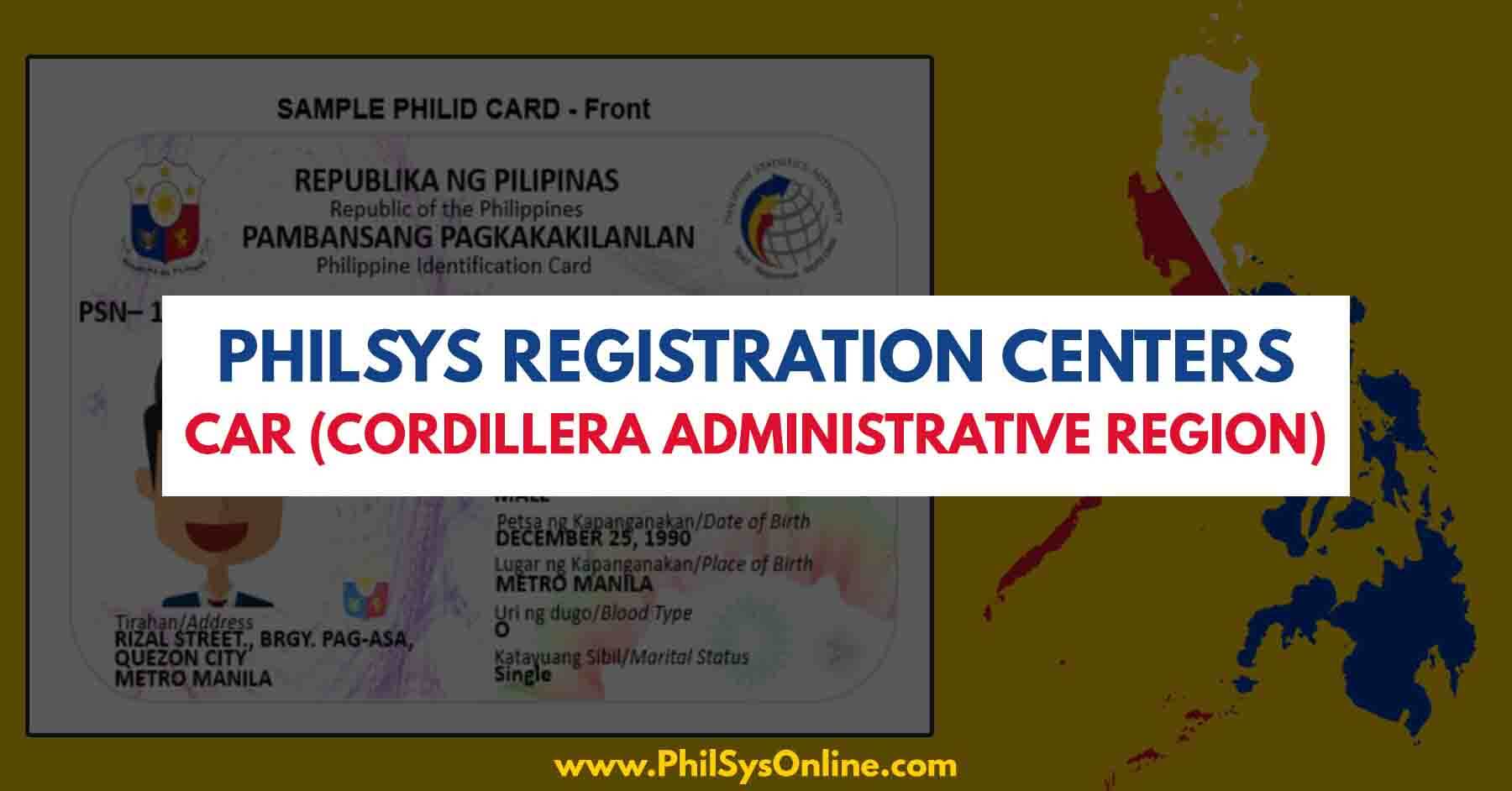 The Philippine ID card is one of the fundamental components of the Philippine Identification System (PhilSys), which will be implemented by the Philippine government. PhilSys is a platform that will allow for easy public and private transactions, as well as social service delivery and financial inclusion using a recognized proof of identity.
The PhilSys will revolutionize how services are provided and accessed in the Philippines, as well as hasten our move to a digital economy, including through the use of paperless and cashless transactions.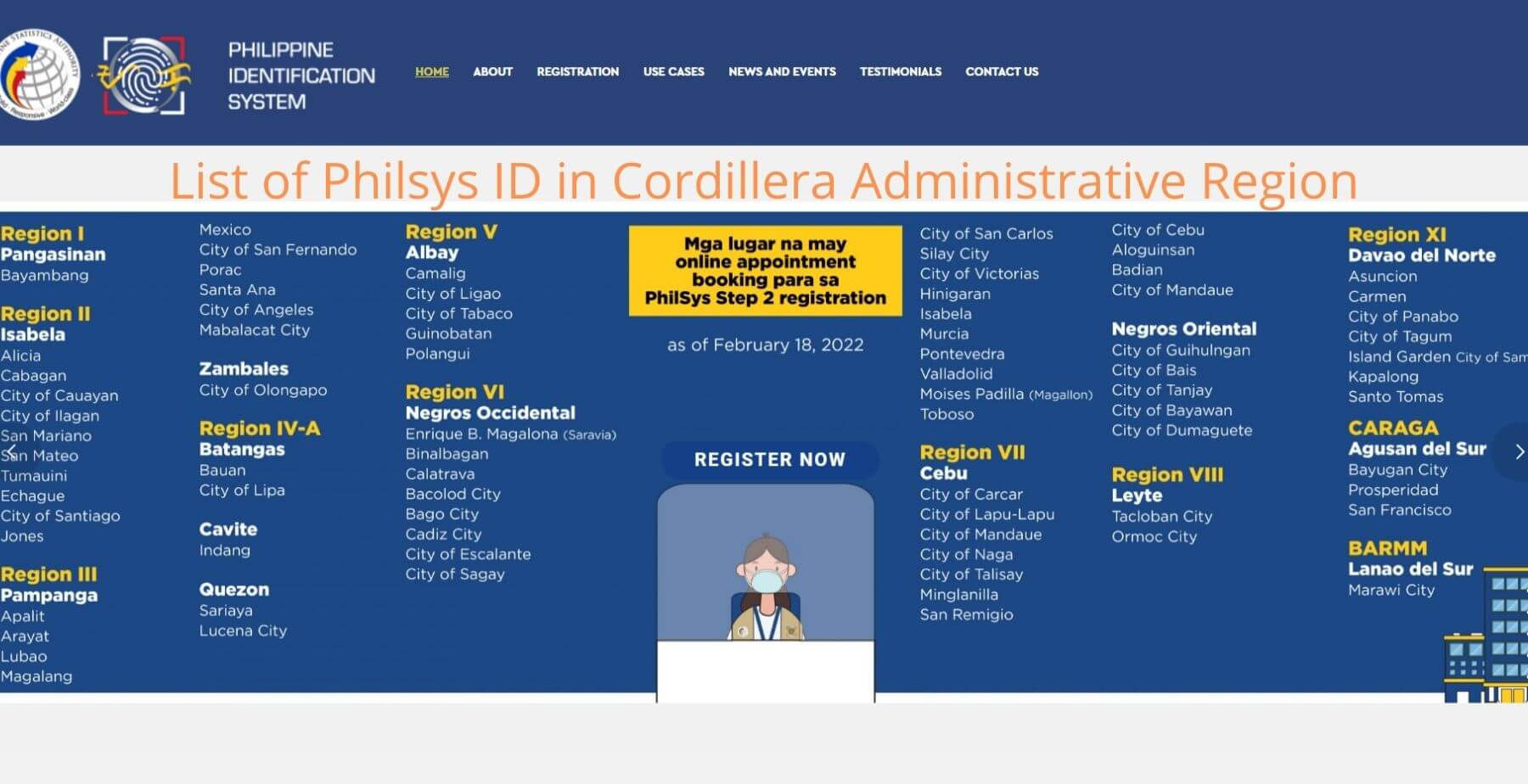 Directory: Philsys ID Office Locations in Cordillera Administrative Region Philippines
Here we are listing the locations in Cordillera Administrative Region on where to get the National ID:
PhilSys Registration Centers in Abra
Bangued(Capital)
Address: St. Arnold Janssen Communication Center Bldg. (DZPA Bldg.) Rizal St, Zone 6, Bangued, Abra
Bucay
Address: Municipal Hall, South Poblacion, Bucay, Abra
Danglas
Address: Bahay Silangan/Poblacion, Danglas, Abra
La Paz
Address: Municipal Hall/Poblacion, Lapaz, Abra
Lagangilang
Address: Barangay Hall/Laang, Lagangilang, Abra
Manabo
Address: Municipal Hall, Luzong, Manabo, Abra

PhilSys Registration Centers in Apayao
Flora
Address: Flora Municipal Building, Poblacion West, Flora, Apayao
Luna
Address: CJRAM Building, San Isidro Sur, Luna, Apayao
Santa Marcela
Address: Sta. Marcela Municipal Building, San Carlos, Sta. Marcela, Apayao

PhilSys Registration Centers in Benguet
Buguias
Address: Loo Elementary School, Buguias, Benguet
City of Baguio
Address: SM SUpermall Baguio Luneta Hill Drive Upper Session Road, Baguio City

PhilSys Registration Centers in Ifugao
Kiangan
Address: SK Office, Poblacion, Kiangan
Lagawe(Capital)
Address: RTK Bldg, Dotal St, Cor. Cuta Drive, Poblacion South, Lagawe, Ifugao
Lamut
Address: Old 4ps Office, Pob. West, Lamut, Ifugao
Alfonso Lista(Potia)
Address: LIGA Officem Sta Maria, Alfonso Lista, Ifugao
Address: Barangay Hall, San Marcos, Alfonso Lista, Ifugao
Hingyon
Address: Barangay Hall, Bitu, Hingyon, Ifugao

PhilSys Registration Centers in Kalinga
Pinukpuk
Address: Kattabogan Barangay Hall, Kattoabogan, Pinukpuk, Kalinga
Rizal(Liwan)
Address: Daycare Center, Calaocan, Rizal, Kalinga
City of Tabuk(Capital)
Address: 1st Floor Glimz Bldg., Balinag St. Purok 4, Bulanao, Tabuk City, Kalinga
Address: Barangay Hall, Lacnog, Tabuk City, Kalinga

PhilSys Registration Centers in Mountain Province
Bontog(Capital)
Address: First Floor, Bontoc Municipal Building, Poblacion, Bontoc, Mountain Province
Natonin
Address: 2F, Evacuation Center, Poblacion, Natonin, Mountain Province
Paracelis
Address: 3F Municipal Building, Poblacion, Paracelis, Mountain Province

Summary
The list of Philippine National ID registration centers in Cordillera Administrative Region is shown Above. Please note the steps you must take to apply and register your information when you create an account for the Philippine National ID.
You may apply online through the Philippine Statistics Authority (PSA) website and get an appointment. Please bring with you the required documents for verification purposes.
One government ID, as well as its associated problems, has greatly reduced the effort required to access important public services. All fundamental data on one person, such as phone numbers, criminal records, and loans, will be kept in the identification card.