Another great news as SM Supermalls in the Philippines is now handling PhilSys Step 2 Registration Appointment in its mall branches nationwide. We have listed the list of SM branches that handle PhilSys ID registration in the information below.
In a recent update from PSA, a Memorandum of Understanding was signed with SM Prime Holdings, Inc. on June 14, 2021. at the SM Aura Premier mall in Bonifacio Global City in Taguig City.
Also Read: Get PhilSys Step 2 Appointment at Robinsons Malls Nationwide
The Memorandum included a partnership wherein PhilID applicants can now register and set up their Step 2 Appointment at participating SM mall outlets. This is great news because it allows applicants a more convenient location to process the Philippine National ID.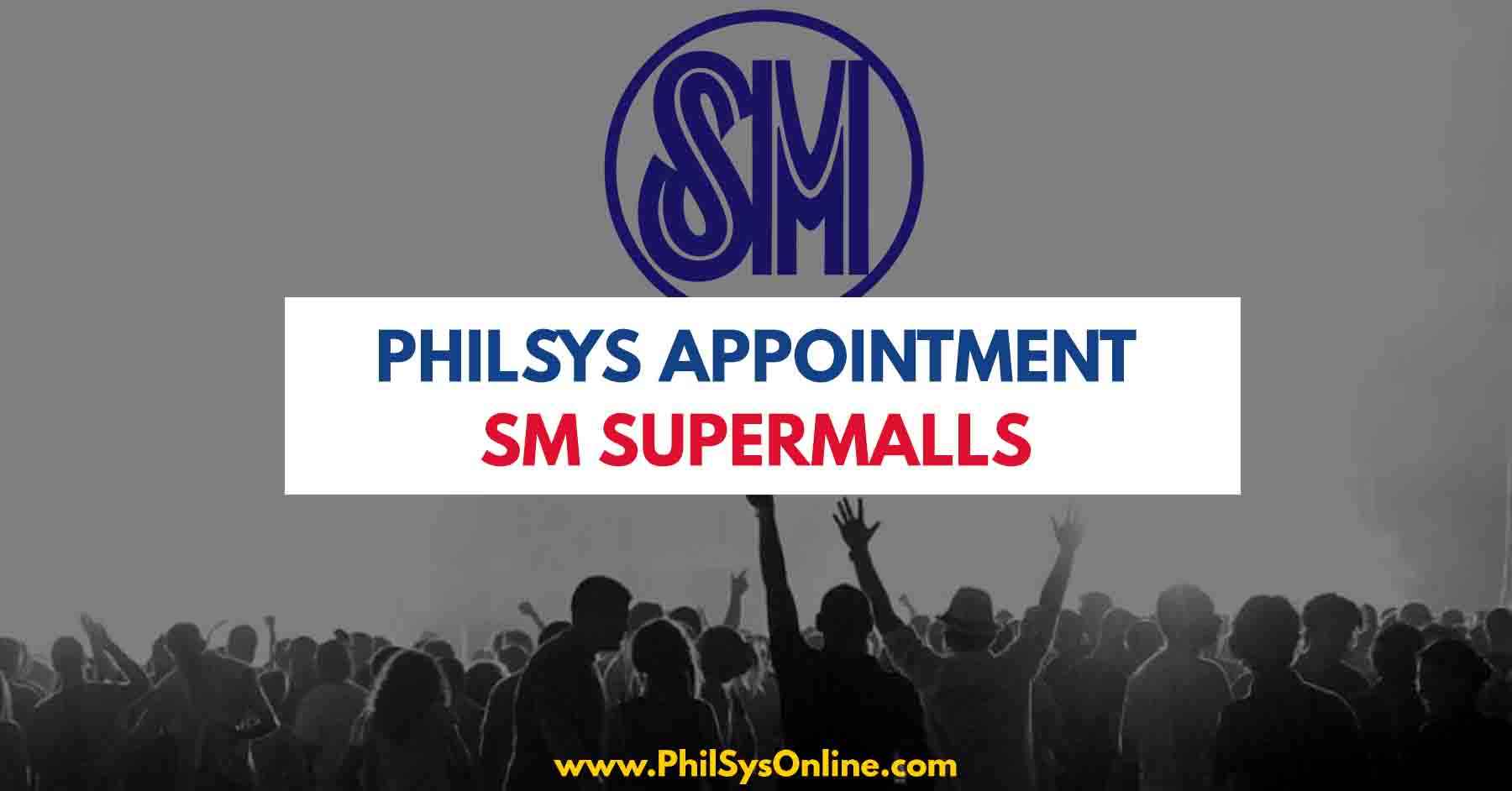 SM and PSA Sign Partnership to Set up Registration Centers in 13 SM Malls Nationwide
Step 2 Registration centers have now opened at 13 SM Supermalls around Manila and the Luzon Island. In the coming weeks, registration centers will be available in additional SM mall locations in conjunction with PSA regional offices.
The Philippine Statistics Authority and SM Supermalls are looking forward to recognizing this tremendous effort to provide PhilSys to the public by increasing registration centers in the weeks ahead.
List of SM Mall Branches that Handle PhilSys Registration
Here is a list of SM supermalls nationwide that handle the process of PhilSys registration. This is where you can visit the Step 2 appointment center. Please check the location, days, and opening times of each mall location:
METRO MANILA
Mall: SM Aura Premier
Location: SM Aura Tower Lobby (Level 5)
Monday to Saturday
8:00AM – 5:00PM
Mall: SM Center Angono
Location: Location: 2nd Level
Monday to Saturday
Starts at 8:00AM
Mall: SM City Taytay
Location: B1, Building B. (beside Office Warehouse)
Monday to Saturday
8:00AM – 5:00PM
Mall: SM City East Ortigas
Location: 2nd Level, Director's Club Cinema
Monday to Saturday
9:00AM – 6:00PM
Mall: SM City Marikina
Location: 3rd Level
Monday to Saturday
8:00AM – 5:00PM
Mall: SM City Bicutan
Location: 2nd Level, Bldg. B, SM Cinema
Monday to Friday
10:00AM – 5:00PM
Mall: SM Center Muntinlupa
Location: 2nd Level, SM Cinema Lobby
Monday to Friday
9:00AM – 6:00PM
Mall: SM Center Las Piñas
Location: 2nd Level, SM Cinema
Monday to Friday
8:00AM – 5:00PM
Mall: SM City BF Parañaque
Location: 3rd Level, SM Cinema
Monday to Friday
10:00AM – 5:00PM
Mall: SM City Sucat
3rd Level, SM Cinema Lobby
Monday to Friday
9:00AM – 6:00PM
NORTH LUZON
Mall: SM City Valenzuela
Location: Third Level near Smart
Monday to Saturday
10:00AM – 7:00PM
Mall: SM Center Sangandaan
Location: Third Level near Cinema 1
Monday to Saturday
10:00AM – 5:00PM
Mall: SM City San Jose Del Monte
Location: 2nd Floor
Monday to Saturday
8:00AM – 5:00PM
Mall: SM City Baguio
Location: Level 2 SunSet Terraces
Monday to Friday
10:00AM – 6:00PM
Mall: SM City Rosales
Location: 2nd Level
Monday to Saturday
8:00AM – 5:00PM
Mall: SM City Cauayan
Location: Level 2, Cinema Lobby
Monday to Saturday
8:00AM – 5:00PM
Mall: SM Megacenter Cabanatuan
Location: Level 3, The Event Center
Monday to Saturday
Starts at 8:00AM
Mall: SM City Pampanga
Location: Ground Level near Chinabank
Monday to Saturday
8:00AM – 5:00PM
Mall: SM City Telabastagan
Location: Ground Level near Tokyo Tokyo
Monday to Saturday
8:00AM – 5:00PM
Mall: SM City Olongapo Central
Location: Ground Level near Goldilocks
Monday to Saturday
10:00AM – 6:00PM
SOUTH LUZON
Mall: SM City Dasmariñas
Location: 2nd Level
Monday to Sunday
8:00AM – 6:00PM
Mall: SM City Molino
Location: 2nd Level
Monday to Sunday
10:00AM – 8:00PM
Mall: SM City Rosario
Location: 2nd Level
Monday to Sunday
9:00AM – 6:00PM
Mall: SM City Trece Martires
Location: 2nd Level
Monday to Sunday
9:00AM – 6:00PM
Mall: SM City Santa Rosa
Location: 2nd Level near SM Cinema
Monday to Saturday
9:00AM – 6:00PM
Mall: SM City Calamba
Location: 3rd Level
Monday to Saturday
9:00AM – 6:00PM
Mall: SM City San Pablo
Location: 2nd Level near SM Cinema
Monday to Saturday
9:00AM – 6:00PM
Mall: SM City Batangas
Location: 2nd Level
Monday to Friday
9:00AM – 6:00PM
Mall: SM City Lipa
Location: 2nd Level
Monday to Sunday
10:00AM – 7:00PM
Mall: SM City Lucena
Location: 2nd Level
Monday to Sunday
8:00AM – 5:00PM
Mall: SM Center Lemery
Location: 2F, IT Zone
Monday to Sunday
10:00AM – 7:00PM
Mall: SM City Naga
Location: 2nd Level, Mall Atrium
Monday to Saturday
9:00AM – 7:00PM
Mall: SM City Legazpi
Location: 3rd Level, Back of Cinema
Monday to Saturday
10:00AM – 8:00PM
VISAYAS
Mall: SM City Consolacion
Location: 2nd Level, Cyberzone
Monday to Saturday
8:00AM – 5:00PM
Mall: SM City Cebu
Location: UGL near Ace Hardware
Monday to Saturday
9:00AM – 7:00PM
Mall: SM Hypermarket Lapu-Lapu
Location: 2nd Level
Monday to Saturday
8:00AM – 5:00PM
Mall: SM Seaside City Cebu
Location: Lower Ground Floor, City Wing beside BDO
Monday to Saturday
9:00AM – 7:00PM
Mall: SM City Bacolod
Location: 3rd Level, Main Atrium
Monday to Saturday
8:00AM – 6:00PM
MINDANAO
Mall: SM City Cagayan De Oro
Location: 3rd Level, Cyberzone
Monday to Saturday
10:00AM – 6:00PM
Mall: SM City Butuan
Location: 3rd Level, The Event Center
Monday to Saturday
10:00 AM- 7:00 PM
Mall: SM City General Santos
Location: 2L, Cinema Hallway
Monday to Saturday
9:00AM – 7:00PM
Here is a post-update of the PhilSys registration center memorandum of understanding with PSA and SM Supermalls:
Here is the Press Release post from PSA regarding the Memorandum of Agreement signing with SM Supermalls: