Filipinos who are applying for Philippine National ID in Region 5 (Bicol Region) can go to the PhilSys Registrations Centers located in the provinces of Camarines Norte, Camarines Sur, Albay, Sorsogon, and Masbate You can find the directory list of these PhilSys offices according to the city below.
Also Read: Do you Need to Renew your PhilSys ID?
The Philippine Identification System ID (PhilSys ID), often known as the Philippine Identification Card, is a government-issued identification card for Filipino citizens and foreign permanent residents in the Philippines.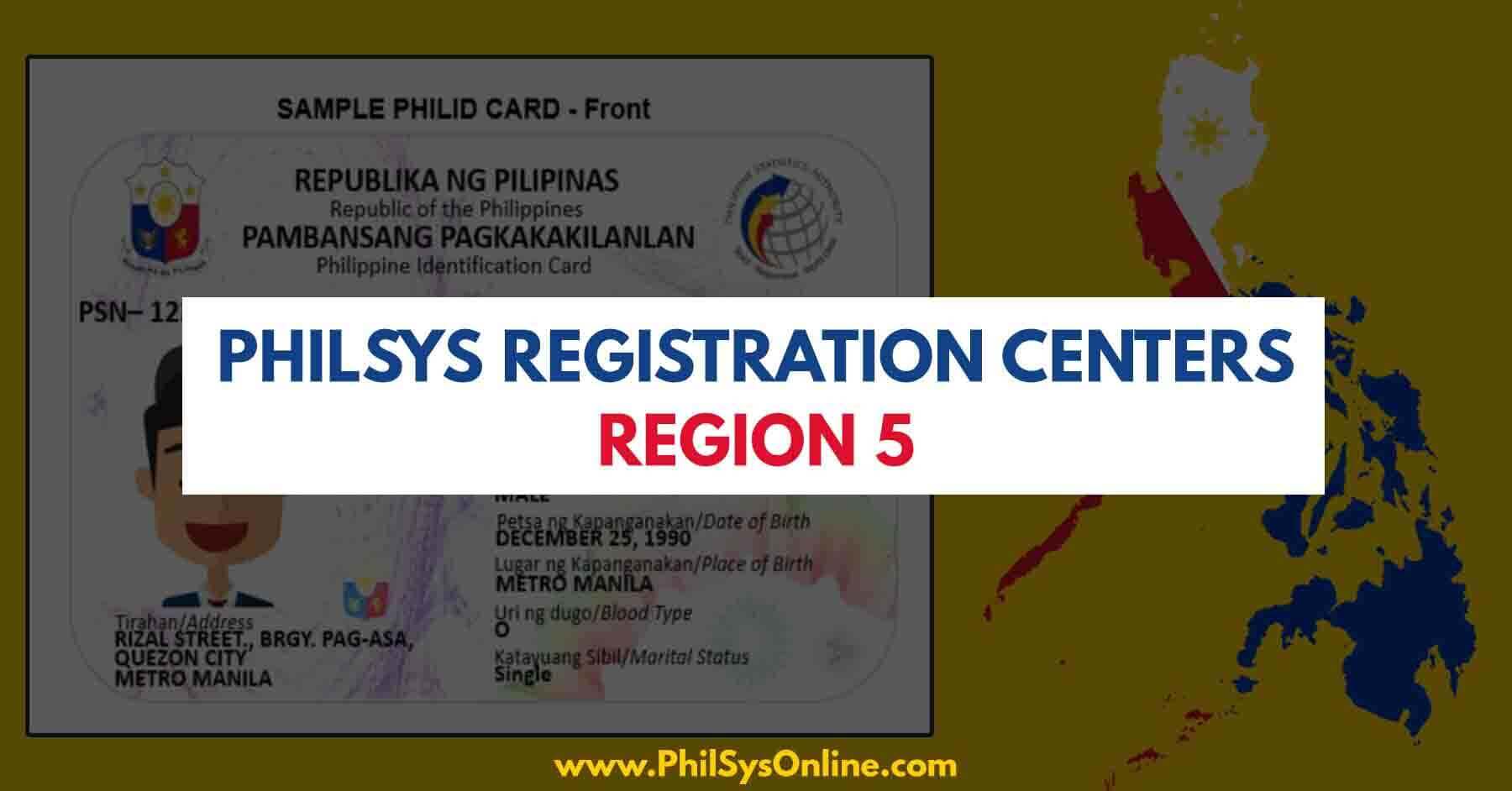 The Philippine ID card is one of the fundamental components of the Philippine Identification System (PhilSys), which will be implemented by the Philippine government. PhilSys is a platform that will allow for easy public and private transactions, as well as social service delivery and financial inclusion using a recognized proof of identity.
The PhilSys will revolutionize how services are provided and accessed in the Philippines, as well as hasten our move to a digital economy, including through the use of paperless and cashless transactions.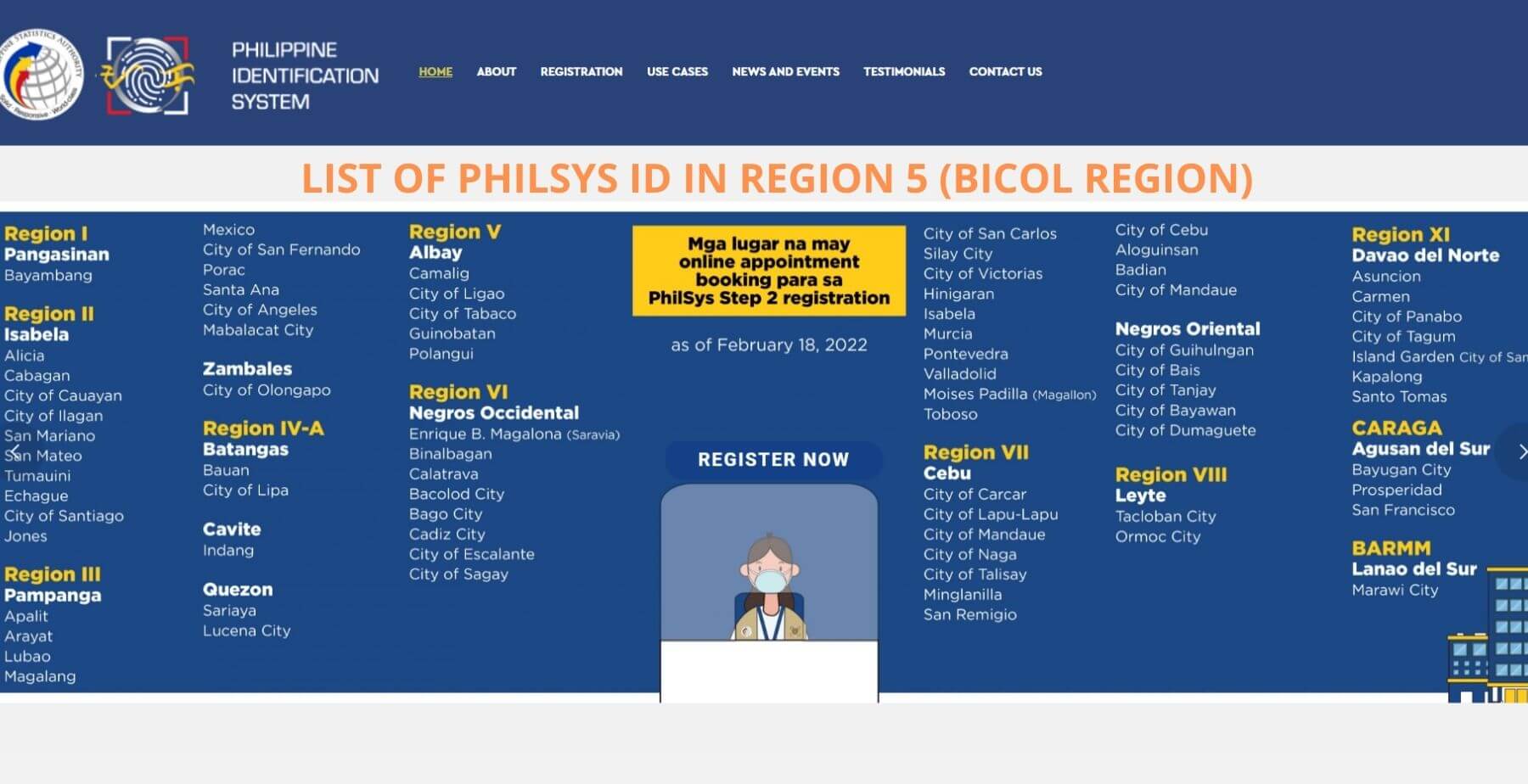 Directory: Philsys ID Office Locations in REGION 5 (Bicol Region) Philippines
Here we are listing the locations in Region 5(Bicol Region) on where to get the National ID:
PhilSys Registration Centers in Camarines Norte
Daet(Capital)
Address: LJR Bldg. III, J. Lukban St., Brgy. III, Daet, Camarines Norte
Address: 3F SM City Daet, Vinzons Ave. Brgy. Lag-on, Daet, Camarines Norte
Jose Panganiban
Address: Jomapa Convention Center, North Poblacion, Jose Panganiban, Camarines Norte
Labo
Address: Brgy Hall, Brgy. Gumamela, Labo, Camarines Norte
Paracale
Address: Gf Municipal Hall, Paracale, Camarines Norte
Santa Elena
Address: 2F Dict Bldg. Municipal Hall Compound, Sta Elena, Camarines Norte

PhilSys Registration Centers in Camarines Sur
Baao
Address: Municipal Hall Bldg., Del Rosario, Baao, Camarines Sur
Bato
Address: LRV Gymnasium, Tres REyes, Bato, Camarines Sur
Buhi
Address: Infront of the New Municipal Bldg.(Tent), San Buenaventura, Buhi, Camarines Sur
Bula
Address: Local Civil Registrar Office, Salvacion, Bula, Camarines Sur
Calabanga
Address: Municipal Hall Compound, Office of the Senior Citizen's Affair, San Pablo, Ca
Canaman
Address: Canaman People's Center Zone 5 Dinaga, Canaman Camarines Sur
Caramoan
Address: Ground Floor, Municipal Bldg., Tawog, Caramoan, Camarines Sur
City of Iriga
Address: ICT Bldg., Sta Cruz Sur, Iriga City, Camarines Sur
City of Naga
Address: Peopel's Hall, City Hall Compound, Naga City, Camarines Sur
Address: Ground Floor ALDP Plaza Mall Diversion Road, City of Naga, Camarines Sur
Address: PSAS Bldg., #774 Panganiban Drive, Naga City, Camarines Sur
Address: Roxas Avenue, Cor Almeda Hwy, Brgy. Triangulo Naga, Camariens Sur
Address: Nino and Cory Aquino Avenue, Central Business District II Brgy, Naga, 4400 Camarines Sur
Del Gallego
Address: Municipal Hall, Del Gallego, Camarines Sur
Garchitorena
Address: Ground Floor LGU Main Building, Barangay 4, Garchitoerna, Camarines Sur
Goa
Address: Multipurpose Complex, La Purisima St., Goa Camarines Sur
Lagonoy
Address: Tourism Bldg., Sta Maria, Lagonoy, Camarines Sur
Libmanan
Address: Dilanco St., Libod I, Liga Building, Libemanan, Camarines Sur
Lupi
Address: Colacling Evacuation Center, Colacling, Lupi, Camarines Sur
Magarao
Address: Toursim Information Office, Zone 5 San Isidro, Magarao Camarines Sur
Nabua
Address: Ground Floor(Lobby), Municipal Hall, Sta Rosa Del Norte, Pasacao, Camarines Sur
Ocampo
Address: Door 4, 2nd Floor, Multi-Purpose Building, Pob West, Ocampo, Camarines Sur
Pasacaoa
Address: Covered Court – LGU Pasacao Municipal Hall, Sta. Rosa Del Norte, Pasacao, Camarines Sur
Pili(Capital)
Address: Municipal Sports Complex, San Juan Pili, Camarines Sur
Ragay
Address: Municipal Hall, Poblacion Ilaod, Ragay, Camarines Sur
Sagnay
Address: Office of Local Civil Registrar, San Roque Sagnay, Camarines Sur
San Fernando
Address: DOPCEN Building, Bonifacio, San Fernando, Camarines Sur
Sipocot
Address: 2nd Floor, MDRRMO Building, Municipal Compound, South Centro, Sipocot, Camarines Sur
Tigaon
Address: Municipal Hall Lobbby, Caraycayon, Tigaon, Camarines Sur
Tinambac
Address: ABC Hall, Zone 2, Binalay, Tinambac, Camarines Sur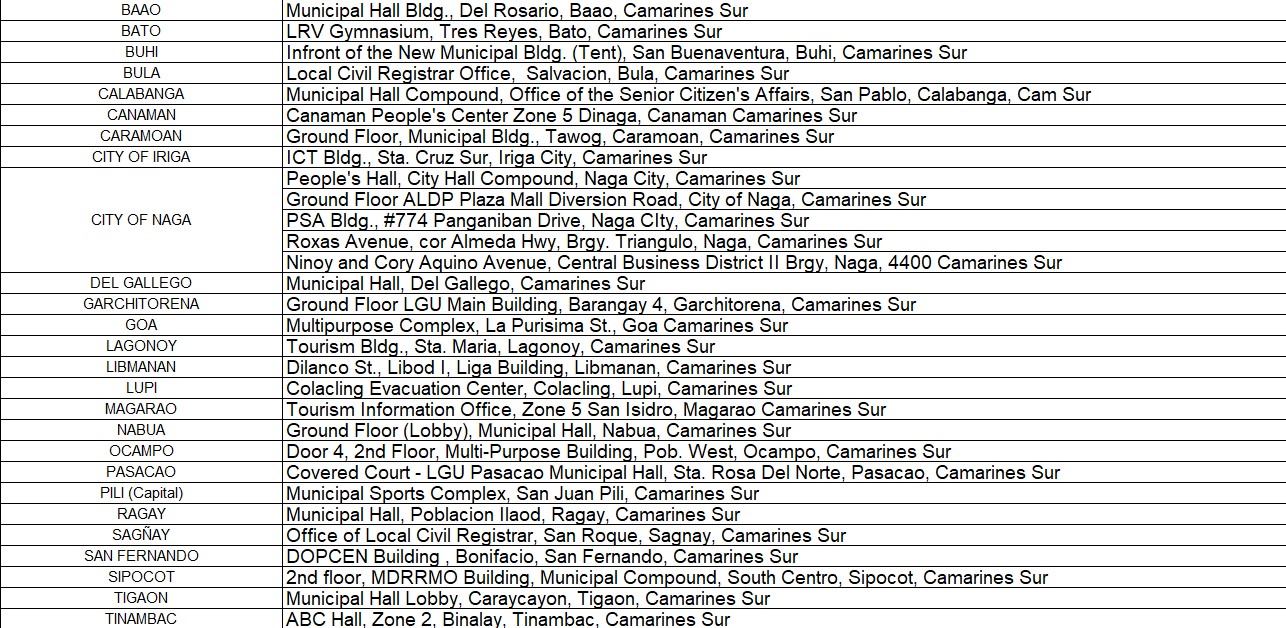 PhilSys Registration Centers in Albay
Camalig
Address: Camalig Gymnasium, Camalig, Albay
City of Legazpi (Capita)
Address: 2/F Embarcadero de Legazpi, Port Area, Victory Village, Legazpi City (FRC)
Address: 3/F SM City Legazpi
Address: 3/F Pacific Mall Legazpi
City of Ligao
Address: Tuburan Covererd Court, Tuburan, Ligao City, Albay
Address: Tinampo Covered Court, Tinampo, Ligao City, Albay
Tabaco City
Address: 3/F Tabaco City Mall, Divino Rostro, Tabaco City
Address: (Island) – Satellite Office
Daraga
Address: MSWD 3/F Daraga Public Market
Guinobatan
Address: Arandurugan Hall
Libon
Address: Libon Business Institutional and Recreation Center (LBIRC)
Oas
Address: Biazon Hall, Oas, Albay
Polangui
Address: ABC Hall, Poblacion, Polangui, Albay

PhilSys Registration Centers in Sorsogon
Bulan
Address: Brgy Hall G. Del Pilar, Bulan, Sorsogon
Address: Brgy Hall San Francisco, Bulan, Sorsogon
Castilla
Address: Brgy Hall Burabod, Castilla, Sorsogon
Donsol
Address: Brgy Hall Alin, Donsol, Sorsogon
Irosin
Address: Irosin National Agency Center and Terminal, San Pedro, Irosin, Sorsogon
Pilar
Address: Brgy, Hall Esperanza, Pilar ,Sorsogon
City of Sorsogon (Capital)
Address: G/F Fernando's Mall 3799 Rizal St., Piot Sorsogon City

PhilSys Registration Centers in Masbate
Aroroy
Address: Tico Maristela Sports & Cultural Center, Brgy. Poblacion, Aroroy, Masbate
Balud
Address: LGU – PLAN Building, Abelita St. Brgy. Poblacion, Balud, Masbate
Cataingan
Address: Cataingan Municipal COllege, Brgy. Poblacion, Cataingan, Masbate
Cawayan
Address: LIGA Building Brgy. Polblacion, Cawayan, Masbate
City of Masbate (Capital)
Address: 2/f Chavez Bldg., Mabini St., Barangay Kalipay, Masbate
Placer
Address: Former BFP Officer, Brgy. Poblacion, Placer, Masbate
Uson
Address: Ground Floor, MDRRMO Bldg. Brgy. Poblacion, Uson, Masbate

Summary
The list of Philippine National ID registration centers in Region 5 (Bicol Region) is shown Above. Please note the steps you must take to apply and register your information when you create an account for the Philippine National ID.
You may apply online through the Philippine Statistics Authority (PSA) website and get an appointment. Please bring with you the required documents for verification purposes.
One government ID, as well as its associated problems, has greatly reduced the effort required to access important public services. All fundamental data on one person, such as phone numbers, criminal records, and loans, will be kept in the identification card.