Filipinos who are applying for Philippine National ID in Region 10 (Northern Mindanao) can go to the PhilSys Registrations Centers located in the provinces of Bukidnon, Camiguin, Lanao Del Norte, Misamis Occidental, and Misamis Oriental. You can find the directory list of these PhilSys offices according to the city below.
Also Read: How to Check Status of Philippine National ID Delivery Online
The Philippine Identification System ID (PhilSys ID), often known as the Philippine Identification Card, is a government-issued identification card for Filipino citizens and foreign permanent residents in the Philippines.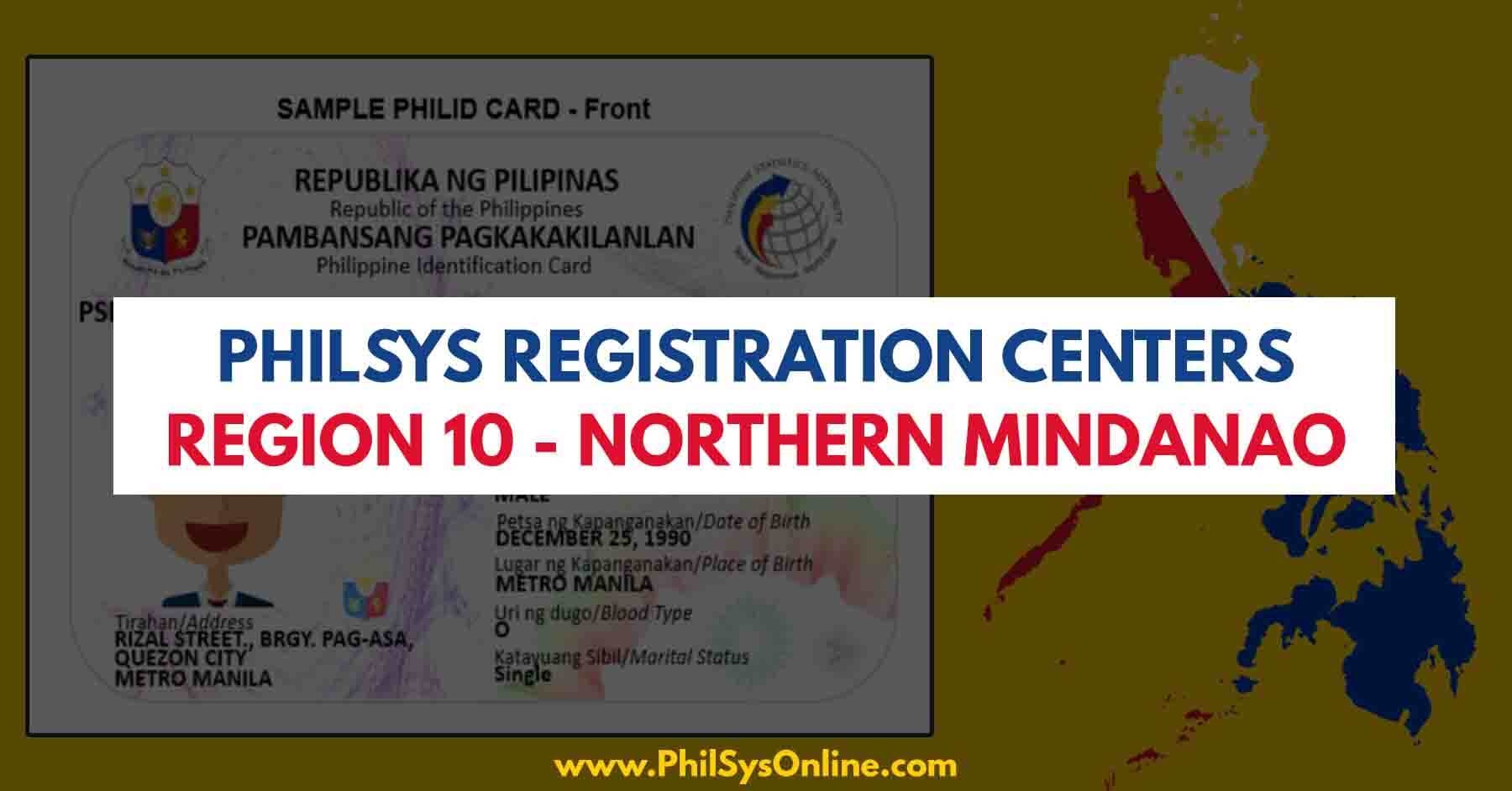 The Philippine ID card is one of the fundamental components of the Philippine Identification System (PhilSys), which will be implemented by the Philippine government. PhilSys is a platform that will allow for easy public and private transactions, as well as social service delivery and financial inclusion using a recognized proof of identity.
The PhilSys will revolutionize how services are provided and accessed in the Philippines, as well as hasten our move to a digital economy, including through the use of paperless and cashless transactions.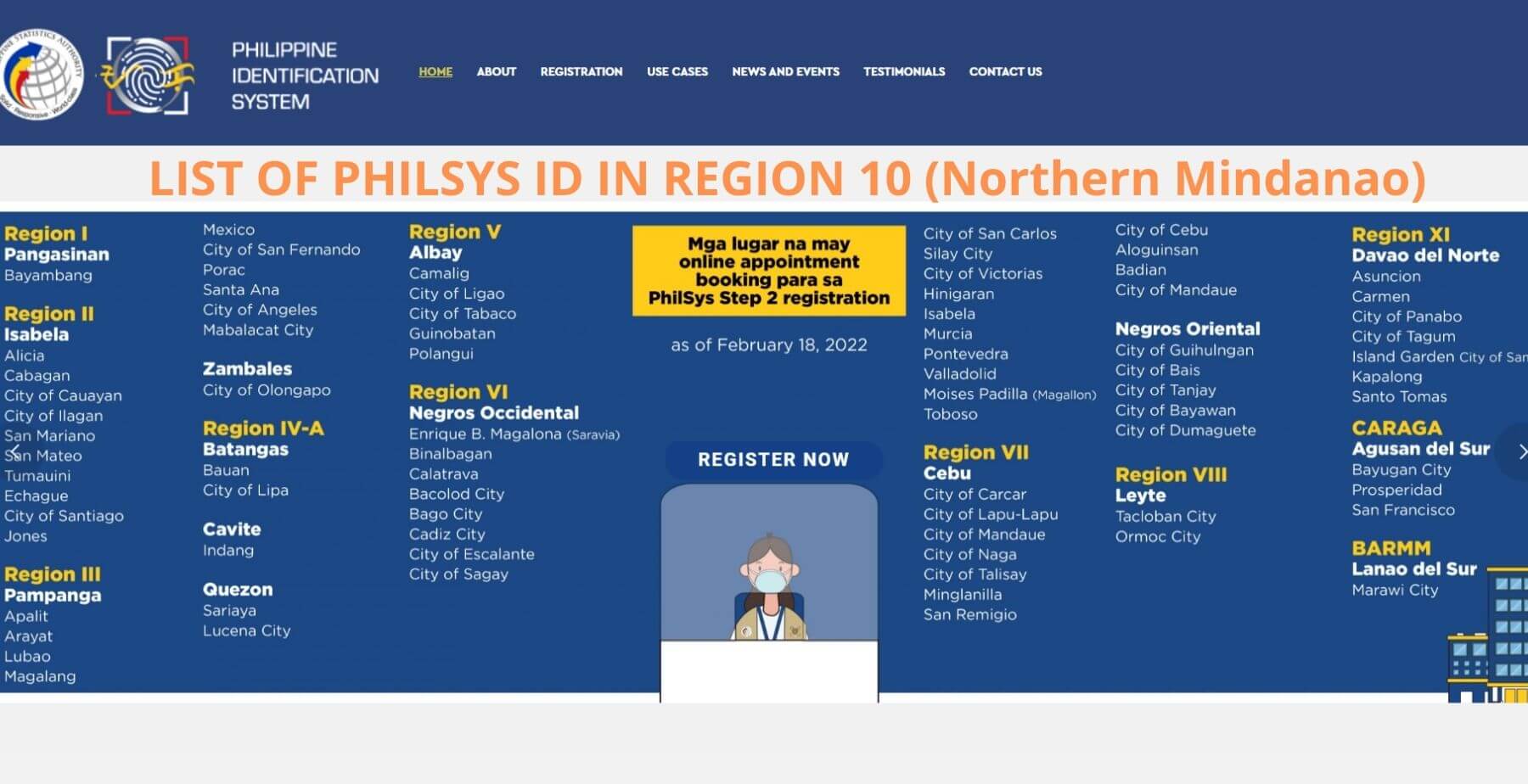 Directory: Philsys ID Office Locations in Region 10 (Northern Mindanao) Philippines
Here we are listing the locations in Region 10 (Northern Mindanao) on where to get the National ID:
PhilSys Registration Centers in Bukidnon
Damulog
Address: New Municipal Building, Poblacion, Damulog
Impasug-Ong
Address: Women's Production Center, Poblacion, Impasug-ong, Bukidnon
Lantapan
Address: Barangay Covered Court, Bugca-on , Lantapan, Bukidnon
City of Malaybalay(Capital)
Address: Purok 2, Landing, Casisiang, Malaybalay City
Address: BarangayCovered Court, San Jose, Malaybalay City
Manolo Fortich
Address: Barangay Covered Court, Agusan Canyon, Manolo Fortich
Maramag
Address: Municipal Building, Anahawon, Maramag Bukidnon
Pangantucan
Address: Barangay Covered Court, Poblacion, Pangantucan Bukidnon
Quezon
Address: Municipal Hall of Justice Building, Quezon Bukidnon
San Fernando
Address: Municipal Gym, San Fernando Bukidnon
Talakag
Address: Barangay Covered Court, San Isidro, Talakag Bukidnon
City of Valencia
Address: Level 3 Near Robinsons Move World
Address: Valencia City Gym. Purok 16, Poblacion, Valencia City
Address: Barangay Covered Court, Tugaya, Valencia City

PhilSys Registration Centers in Camiguin
Mambajao(Capital)
Address: Door 1-3, Nakki Real State building, Carmel St., Lakas, Poblacion, Mambajao Camiguin
Address: LGU Mambajao Municipal Hall

PhilSys Registration Centers in Lanao del Norte
Iligan City
Address: 1/F Barnuevo Building, Badelles St. Ext. Pala-o, Iligan City, Lanao Del Norte 9200

PhilSys Registration Centers in Misamis Occidental
City of Oroquieta(Capital)
Address: Town Center, Canubay, Oroquita City
City of Ozamiz
Address: 2/F Gaisano Southwing Mall, Port Road Corner 15 de Noviembre Street, Ozamiz City, Misamis Occidental 7200
City of Tangub
Address: Dance Studio, GADTC, Maloro, Tangub City
Don Victoriano Chiongbian(Don Mariano Marcos)
Address: Municipal Gymnasium(beside LCR office), Don Victoriano Chiongbian

PhilSys Registration Centers in Misamis Oriental
Balingasag
Address: MDRRMO Extension, Left Wing Municipal Hall Building, Balingasag, Misamis Oriental
Claveria
Address: Old Municipal Building
City of Gingoog
Address: Manuel Lugod Elementary School – Brgy 10, Gingoog City
Jasaan
Address: Senior Citizen Building, Upper Jasaan, Misamis Oriental
Magsaysay(Linugos)
Address: Magsaysay College, Magsaysay, Misamis Oriental
Medina
Address: Municipal Agricultural Office Building, North Poblacion, Medina, Misamis Oriental
Opol
Address: Old Tourism Hall, Opol, Misamis Oriental
Tagoloan
Address: Municipal Conference Room
Talisayan
Address: Old Municipal Building, Talisayan, Misamis Oriental
City of Cagayan De Oro(Capital)
Address: Sm City Cagayan De Oro Uptown
Address: SM CDO Downtown Premier Downtown
Address: FRC, G/F, Limketkai Mall, C.M. Recto Avenue, Barangay Lapasan
Address: City Mall Bulua
Address: 3rd Floor, Ayala Mall Centrio
Address: Limketkai Mall, West Concourse

Summary
The list of Philippine National ID registration centers in Region 10 (Northern Mindanao) is shown above. Please note the steps you must take to apply and register your information when you create an account for the Philippine National ID.
You may apply online through the Philippine Statistics Authority (PSA) website and get an appointment. Please bring with you the required documents for verification purposes.
One government ID, as well as its associated problems, has greatly reduced the effort required to access important public services. All fundamental data on one person, such as phone numbers, criminal records, and loans, will be kept in the identification card.